Terror Sans Frontier: Islamic Militancy in North East India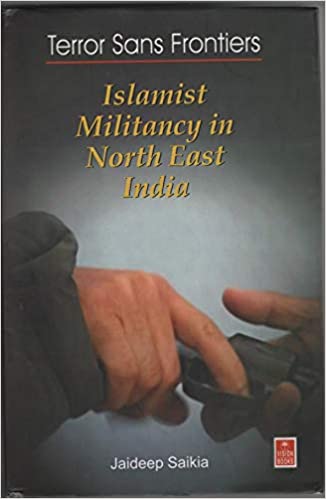 Jaideep Saikia, Terror Sans Frontier: Islamic Militancy in North East India, Vision Books, New Delhi, 2004
Terror Sans Frontier by Jaideep Saikia is a book, which deals with the issue of Islamic militancy in India's Northeast region in general and Assam in particular. Saikia is an old hand in observing the affairs of India's Northeast and this time around he has come up with an excellent analysis of the simmering problems of militancy in this part of India. This book is divided into five chapters in all. The first chapter "Shadow Over Crescent" is an attempt at the theoretical delineation of terrorism from the Islamic theological sanctions that the former seeks to invoke. Saikia goes at length in describing the theological interpretation of Jihad in Islam and contends how Islam actually describes it. This chapter has some fine and nuanced analysis of the differences between fundamentalism and terrorism. Quoting one scholar after another, Saikia attempts to prove that while Islam and the Muslim community is infested with the problem of fundamentalism like any other religion or community, the concept of terrorism has no theological basis in Islam. 
One of the best chapters of the book undoubtedly is the second one "The Crescent Waxes Eastward". The author attempts to comprehend the problem of illegal migration by it juxtaposing in the historical context of Muslim migration to Assam through medieval, colonial and post-independence times. It is alarming to know that at present 35 per cent of the population in Assam are illegal migrants from the adjoining districts of Bangladesh. The Assam agitation, as it was called then, was launched on 8 June 1979 against such illegal movements of people from across the border. The agitation continued for five years and owing to the mass appeal of the agitation, the Assam accord between the Indian government and representatives of AASU (All Assam Student Union) and AAGSP (All Assam Gana Sangram Parishad) was signed in New Delhi on 15 August 1985. In the meantime, the government also enacted the Illegal Migration (Determination by Tribunal) IM (DT) Act of 1983 which, according to the author, is actually a rehash of the Foreigners Act of 1946. There are far too many legal ambiguities in the IM (DT) Act of 1983 for it to become an effective check on illegal migration into the state.
The third chapter "Swadhin Asom Or Brihot Bangladesh" and the fourth "Fundamentalism at the Doorsteps" are critiques of ethnic militancy in Assam and Islamic extremism in Bangladesh respectively. Chapter three details the metamorphosis of ULFA (United Liberation Front of Asom) from an ethnic, nationalist outfit engaged for Swadhin Asom or 'independent Assam' to becoming second fiddle to the ISI (Inter-Services Intelligence) of Pakistan, which is quite active in Bangladesh. Assam agitation came to the forefront due to illegal migration and the ULFA gave vent to the more extremist emotions against such illegal migration. But with due course of time, the ULFA now views the illegal migrants as its natural constituency. What is a matter of concern in the South Asian context has expatiated in the fourth chapter. The quick rise of Islamic extremism has been a cause of great concern. That the party like Jamaat-e-Islami which had a very vocal anti-liberation and pro-Pakistan stance during the independence struggle in 1971, has come in ruling alliance with BNP (Bangladesh Nationalist Party) speaks volumes on the shrinking secular space in Bangladeshi politics. It is not a hidden fact anymore that Bangladeshi extremists participated in American-led Jihad against the Soviets during the 1980s. These extremists are now responsible for the presence of Taliban and al Qaeda in Bangladesh, and the country has not only become safe haven for Indian Northeast militants but also for these terror networks. Bangladesh has now BIM (Bangladesh Islamic Munch), a conglomerate of more than ten Bangladeshi militant outfits including HUJI-B (Harakat-ul-Jihad-al-Islami of Bangladesh), which allegedly carried out an attack on opposition leader Sheikh Hasina last year. The author has also laid bare the transnational reach of these outfits wherein some of them contacted LTTE for committing suicide bombing in Bangladesh. That the deal fell through due to non-payment does not belittle the threat.
Although the book has five chapters in all, the bulk of it is comprised of appendixes. There are as many as 22 Appendices dealing with the latest data and statistics about the various important topics. However, in the opinion of the present reviewer, there are certain themes and conclusions which are bound to rake up a controversy. The first, for instance, is the author's contention that ethnic or ideological militancy has given way to religious or Islamic militancy. The second one, which, in fact, extends from the first contention, is that ULFA has compromised its ideological moorings and abdicated its ethnic resistance in favour of the ISI. These are some of the conclusions made by Saikia which he goes on to prove but they nevertheless are not free from controversy.
However, there is a considerable peril in discussing or debating 'terrorism' without its accompanying socio-economic root cause and this becomes ostensibly apparent in the fifth and final chapter of this book. In this chapter 'In the Name of Islam', Saikia sketches a detailed scenario about the status of Islamic militant outfits operating in Assam. He tells us about MULFA (Muslim United Liberation Front of Assam), MULTA (Muslim United Liberation Tigers of Assam), MLTA (Muslim Liberation Tigers of Assam) and other small Muslim militant outfits operating in Assam. It must be a matter of concern for New Delhi if an exclusivist form of Islamic resistance is taking root in the Indian Northeast region for such movement provides easy and ample fodder for ISI operations. However, what seems strange is the author's use of nomenclature in describing these groups which are especially active in Assam. He calls them 'Muslim fundamentalist organisations' (MFO) of North East India. For someone who does great nuanced work at the beginning of his book about the differences between fundamentalism and terrorism, such use of appellation is quite confusing. Not that there is no symbiotic relationship between fundamentalism and terrorism but not all fundamentalists are terrorists. This confusion deepens especially because Saikia himself gathers evidence to prove that MULTA is a party to BIM which has HUJI-B under its tutelage and HUJI-B is one of the signatories of the international declaration of Jihad against the US. Is this connection not sufficient to call it a terrorist outfit? It would be better for Saikia if he could have avoided much confusion and called 'spade a spade.
Reviewed by : S.S.Tabraz, Research Associate, Society for the Study of Peace and Conflict, New Delhi.