Commentaries
Myanmar and Nuclear Weapon Prospect: Is India Concerned?
September 21, 2009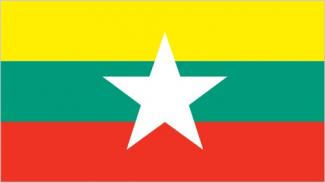 Most of the military power states in the world aspire to become a nuclear power, especially in this highly competitive world. The most recent participant in the race to become a nuclear state is Myanmar. A report in the `Sydney Morning Herald' in early August quotes two Myanmarese defectors as saying that the Myanmar junta was secretly building a nuclear reactor and plutonium extraction facility with North Korea's help and with the aim of acquiring its first nuclear bomb in five years. Myanmar is one of the world's poorest countries, is embarking on a nuclear-research project with the help of Russian and, possibly, North Korean and Pakistani scientists.
After getting independence in 1948, Myanmar has claimed that it has only acquired weapons for internal security and defense against external enemies.
Myanmar was among the first countries to become a State Party to the 1963 Partial Test Ban Treaty (PTBT). It has also signed the 1967 Outer Space Treaty and is a State Party to the 1968 Nuclear Non-Proliferation Treaty (NPT). Myanmar has signed, but not yet ratified the 1972 Seabed Test Ban Treaty. Since 1988, adherence to these international agreements have been confirmed by the State Law and Order Restoration Council (SLORC) and the State Peace and Development Council (SPDC) governments.
According to the media reports, the secret complex, much of it in caves tunneled into a mountain at Naung Laing in northern Burma, runs parallel to a civilian reactor being built at another site by Russia that both the Russians and Burmese say will be put under international safeguards.
Under the Myanmar Atomic Energy Act (MAEA) 1998, Myanmar's civilian nuclear ambitions made global headlines in early 2001. Immediately, a reactor was scheduled for delivery in 2003 for this purpose. However, on May 2007 Russia's Atomic Energy Agency, Rosatom, said it has signed a deal to build a nuclear research reactor in Myanmar. The research center will be under the control of the Vienna based International Atomic Energy Agency (IAEA). Russia said to have agreed to provide Myanmar with a small, civilian light water reactor, which would be subject to agency inspections, although the project's exact status is disputed so far.
The US Secretary of State, Hillary Clinton, during the 2009 ASEAN meeting in Thailand said there had been 'co-operation between North Korea and Burma in the past' and that North Korea had provided Burma with high-technology materials barred by the United Nations Security Council. In early 2007, North Korean ship Kang Nam 1 was believed to had been heading to Myanmar with illicit cargo before turning around. The vessel's movement increased speculation that Myanmar was seeking nuclear assistance from Pyongyang.
Meanwhile, Myanmar's Deputy Minister for Foreign Affair, U. Khin-Marng said the reactor would be used to train to produce radioisotope, which has a range of uses, including in medicine and agriculture science. He also pointed out that the rector would be for peaceful purpose in the interest of the people of Myanmar'. The present Junta strongly believes that Myanmar's interest in nuclear power is not a wrong purpose. David Albright, the head of the Washington based Institute for Science and International Security, which monitors nuclear proliferation, said, there's no hard evidence, just suspicions right now. Although, Albright pointed out that visit to Myanmar by an executive from the North Korean firm, Namchongang Trading Corporation, which is under the sanctions for its role in trading nuclear technology can be a pointer to the growing suspicion. On 30th June 2009, According to Burmanet News, Japanese police arrested three top businessmen on suspicion of attempting to export to Burma a measuring instrument that could be used to develop long-range ballistic missile systems. Japan is also believed that North Korea was attempting to promote the transfer of missile technologies, such as its Taepodong system, to Myanmar. According to the police, the three conspired to export the magnetic measuring device to Burma via Malaysia around January 2009 at a price of about 7 million yen (US $73,000).
Interestingly, Myanmar has become a buffer state between four nuclear power states in Asia: China, India, Pakistan, and North Korea. The military Junta has a good tie with North Korea. On the other hand, China and Pakistan who shares nuclear know-how have also good relation with Myanmar. In a peculiar set up, New Delhi which abandoned support for Pro-democracy forces in 1993 and has embarked upon a multifaceted relationship with the eastern neighbor. On the wake of Myanmar's nuclear ambition seems to be both a direct or indirect threat to the security of India.
The revelation of Myanmar's link with Pakistan nuclear establishment also assumes significance in the recent purchase of a nuclear reactor for research purposes. Pakistan also has been providing small conventional weapon and training to the Myanmarese armed force and has joined China in concluding an intelligence-sharing agreement with Myanmar regarding India's force deployments in the northeast and Bay-of-Bengal. Dozens of sophisticated weapons from Russia and conventional armed shopping in North Korea, China remains the main supplier of military hardware and economic aid to Myanmar. The Junta is now diversifying its sources of military supply from Pakistan, Russia and North Korea.
Despite Myanmar's chronic power shortages, it is not clear why it would need a nuclear research reactor, which is supposed to be mainly for medical purposes. Though there are so far no suspicions that the facility will have a direct military application, it will, like everything else in the country, be under military control. If Russia is butting in, some in the neighborhood may not mind. India fears China is using Myanmar to expand its influence in the water of Southeast Asia and the Indian Ocean. India is itself courting Yangon, but it's unlikely to dislodge the Chinese, who are firmly behind Myanmar's military junta. The technological aid by Pakistan and North-Korea to Myanmar for developing nuclear arsenal is also an immediate headache for India. The attempt by Myanmar to become a nuclear state is also a piece of bad news for the international community, which is trying to broker a deal between the junta and the country's democracy movement.