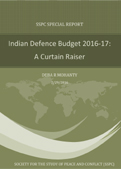 Defence budget cannot be stretched beyond a point, which means Defence Minister Manohar Parrikar has a tough choice for resources deployment.
Reducing revenue expenses and more spending for capital purchases pose the biggest challenge for Indian MoD
National defence budget is all about 'revenue' side of armed forces and their 'capital' requirements. But, is India spending adequately on defence R&D?
National Defence Budget must be reasonably used to get maximum value for the state and its preparedness.
February 2016