Commentaries
India and the Dynamic Trends in International Arms Transfer
April 18, 2022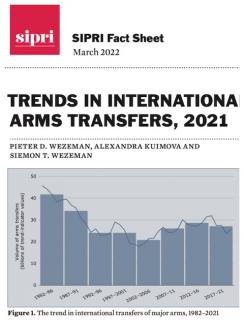 The Stockholm International Peace Research Institute (SIPRI) recently released its report on international arms transfer. This article highlights the current state of arms transactions, including sales and procurement of defence and military equipment worldwide. It attempts to establish and underscore the patterns of the arms trade in the years spanning 2017-to 2021. By evaluating the total transaction (including exports and imports) of arms taking place between the countries, the report sheds light on the strength and weaknesses of emerging and ongoing bilateral defence cooperation between different countries.  
According to the recent SIPRI report published in March 2022, the United States has emerged to be the largest exporter of arms, followed by Russia, France, China and Germany. Together, these top five countries accounted for 77 per cent of the total arms export worldwide. Of the top five exporters, the USA and France succeeded in increasing their share of exports in 2017-21 compared to their previous record. These countries retained their place as the first and the third largest arms exporters globally. The USA's share in the global arms market increased from 32 per cent during 2012-2017 to 39 per cent in 2017-2021, while the total export share of France soared from 6.4 per cent to 11 per cent during the given period.[1] The volume of arms exported by these countries also shows the robustness of their military-industrial base and the level of influence they can exercise over their client countries. 
India's Case
Of all the trends highlighted in this report, the changing paradigms of India's defence acquisition and sales are noteworthy. The information and statistics provided in this report give us an implicit understanding of India's strategic reliance on a few countries, coupled with its desperate moves to become Atmanirbhar (self-reliant) in the domain of defence manufacturing and production.
Interestingly, India was the only country among the top five importers whose imports have declined. Although India emerged as the largest importer of arms along with Saudi Arabia, its import has been gradually declining, as is evident from the data provided by SIPRI in its current and earlier reports. Between 2012–16 and 2017–21, India's arms imports dwindled by 21%, which can be attributed to its growing emphasis on cultivating a vibrant military-industrial ecosystem comprising research, domestic design & development, and defence equipment manufacturing by the public and private sector companies.[2] To promote indigenisation, the Government of India (GoI), in a series of notifications, has restricted the import of multiple defence systems and subsystems since December 2021. These import restrictions apply to a range of weapon systems such as corvettes, airborne early warning systems, tank engines, radars, towed artillery guns, short-range surface-to-air missiles, cruise missiles, and offshore patrol vessels.[3]
India-Russia and the changing patterns of their arms trade
While Russia succeeded in retaining the second spot in the global ranking as a leading arms exporter, its export percentage in the international arms market has steadily declined. Its total export fell by 26 per cent between 2012–16 and 2017–21. The Russian share in the global arms bazaar also fell from 24 per cent in 2012-2016 to 19 per cent in 2017-2021.[4] Russia's primary export destinations have been concentrated predominantly in four countries: India, China, Egypt, and Algeria - accounting for 73 per cent of the total Russian export. The decline in Russian export over the years can be attributed to the decline in imports from India and Vietnam. Russia registered a -47 per cent decline in its exports to India.
The gradual decline in Russian export to India is partly due to India's attempt to diversify its defence procurement in the post-Cold War era. The erstwhile Soviet Union used to be India's predominant supplier of military hardware during the Cold War. The disintegration of the Soviet Union at the end of the Cold War resulted in the fragmentation of the Soviet Military-Industrial Complex, getting dispersed in 15 different countries. An overnight disruption of this scale and magnitude had left almost 3500 suppliers of Indian defence equipment spread all across other countries, presenting Indian policymakers with a precarious situation.[5] Moreover, the deteriorating quality of Russian platforms like Mig-21 fighter jets that infamously came to be known as "the flying coffins" due to frequent crashes pushed India to search for better alternatives. This, combined with the delays in the supply of critical spare parts from Russia to repair and service the existing military hardware in the Indian armoury, compelled India to diversify its purchase. Adding to the frustration is the low serviceability rate of the existing platforms of Russian origin. These episodes and hiccups have frustrated the Indian military establishment, plagued by poor serviceability records. Owing to these issues, the previous and the recent list of import bans imposed by the Government of India on the purchase of 117 weapon subsystems, including several Russian subsystems, is significant.[6]
However, India continues to be the largest importer of arms globally, with 46 per cent of its arms import coming from Russia, followed by France constituting 27 per cent, while the USA is grabbing 12 per cent of India's total import share. Although India's purchase of Russian arms has declined, it is pertinent to mention that Russia has been India's crucial defence supplier. Nearly 86 per cent of the total military hardware in India's arsenal is of Russian origin, which reflects India's strategic dependence on Russia for its military equipment.[7] India's dependence on Russia for its military hardware coupled with its nostalgic years of Cold War bonhomie is very much reflected in India's stance on the Ukraine crisis. 
Emerging trends in India's imports and exports
As the dictum goes, "it is the part of a wise man to keep himself today for tomorrow, and not venture all his eggs in one basket" India began to diversify its weapons purchase at the end of the Cold War. In its bid to diversify and reduce its dependence on a single country, India went west with its shopping list to purchase a range of arms from vendors in the United States, France and Israel. These three countries have emerged to be major suppliers of weapons to India. In the past few years, India's import of French weapon systems grew exponentially to record a whopping 709 per cent increase in 2016-2020, followed by a tenfold increase in 2017-2021 to include platforms like Rafale fighter jets, Meteor and Hammer missiles as well as Scorpène-class diesel-electric attack submarines.[8] India's import of American weapons has also grown exponentially from a meagre 6.2 million to 3.2 billion US dollars in the final years of Trump's presidency to include platforms like Chinook, AH-64E Apache, MH 60R Sea-Hawks Romeo helicopters coupled with P 8I Poseidon, C-130J Super Hercules and Boeing C-17 Globemaster III. [9] Israel is another import destination for India as India has acquired a range of weapon systems, including Phalcon AWACS (airborne early warning and control systems), Heron and Searcher drones for intelligence and reconnaissance missions, Beyond Visual Range Air to Air Missiles (BVRAAM) like Derby and Python-5 and has jointly developed air-defence missile systems such as BARAK-LR, among others.[10]
A recent trend that has been highlighted in the report is regarding India's export of defence equipment. India was ranked 24th largest exporter of military hardware in 2016-2020 with a 228 per cent increase in its exports and subsequently has improved its position by graduating to 23rd position in 2017-2021, with a share of just 0.2 per cent of the global exports. This trend in India's exports appears far from its ambitious goal of exporting military hardwareworth USD 5 billion by 2025.[11]
Conclusion
India's foreign policy interacts with its arms import in subtle ways. It has placed India in a spot where it had to walk the tightrope of delicate geopolitical balancing on a few occasions. For instance, India's purchase of S-400 air-defence systems from Russia came with a risk of possible sanctions by the USA under the 2017 Countering America's Adversaries Through Sanctions Act (CAATSA). The CAATSA has frequently featured in the debates on India's slant towards Russia amidst the ongoing Ukraine crisis. On the other hand, by being the largest arms market globally, India has exerted its influence on many countries through its imports. Whether it be fine geopolitical balancing or maintaining influence through imports, these tactical measures are not adequate to meet India's strategic objectives in the coming future. India needs strategic self-reliance to respond to the ever-evolving dynamics of the geopolitical chessboard coupled with the graduating levels of India's security threat that has evolved from conventional to sub-conventional and now appears to be graduating to hybrid levels. The Pulwama terror attacks which killed 40 CRPF soldiers, followed by the 2019 air encounter with Pakistan and subsequent encounters with China in Doklam, Galwan, Pangong-Tso and other regions of the Ladakh, reflect a mix of conventional and asymmetric nature threats that India is facing. This calls for better preparedness and a swift response mechanism to avoid surprises in the conventional domain. One can speculate that India's nature of security threats will keep oscillating between conventional, sub-conventional and hybrid levels or a mix of these transpiring simultaneously.
India needs strategic self-reliance to reduce its dependence on foreign players and meet its requirements for defence and military hardware. Therefore, India needs to keep building its capabilities and continuously improvise its response mechanisms in conventional and sub-conventional domains of conflict to prevent any shock or misadventure by the adversary. India is uniquely positioned in a situation where it faces the combined threat from China and Pakistan, both nuclear-armed countries operating in tandem, creating a "two-front" scenario for India. No other country in the world is in such a tight spot as India, facing a nexus of two adversarial nuclear states.
Therefore, it is required on India's part to build a strong defence manufacturing base to achieve strategic self-reliance in defence production and liberate itself from the clutches of any external influence that might restrict India's diplomatic manoeuvres in the pursuit of its national interest.
NOTES
[1] Wezeman, P.D, Kuimova, A and Wezeman, S.T, (March 2022), Trends in International Arms Transfers, 2021. https://www.sipri.org/sites/default/files/2022-03/fs_2203_at_2021.pdf
[2] Ibid
[3] India expands negative list for defence imports with 108 new items, 31 May 2021, The New Indian Express,https://www.newindianexpress.com/nation/2021/may/31/india-expands-negative-list-for-defence-imports-with-108-new-items-2310016.html
[4] Wezeman, P.D, Kuimova, A and Wezeman, S.T, (March 2022), Trends in International Arms Transfers, 2021. https://www.sipri.org/sites/default/files/2022-03/fs_2203_at_2021.pdf
[5] Thakur, R. The Impact of the Soviet Collapse on Military Relations with India, Europe-Asia Studies, Vol.45, No.5, 1993, p 831, DOI: https://doi.org/10.1080/09668139308412126
[6] Singh, R. (March 25 2022), 107 defence items on phased import ban list, Hindustan Times, https://www.hindustantimes.com/india-news/107-defence-items-on-phased-import-ban-list-101648145594324.html
[7] Singh, S. (July 20, 2022), 86 per cent of Indian military equipment of Russian origin: Stimson Center paper, The Indian Express, https://indianexpress.com/article/india/86-per-cent-of-indian-military-equipment-of-russian-origin-stimson-center-paper-6517136/
[8] Wezeman, P.D, Kuimova, A and Wezeman, S.T, Trends in International Arms Transfers, 2020, https://sipri.org/sites/default/files/2021-03/fs_2103_at_2020.pdf
[9] US arms sales to India zoomed to $3.4 billion in Trump govt's final year, 09 December 2019, The Week, https://www.theweek.in/news/india/2020/12/09/us-arms-sales-to-india-zoomed-to-3-4-billion-in-trump-govts-final-year.html
[10] Pant, H.V & Sahu, A. (2019), Israel's arms sales to India: Bedrock of a strategic partnership, Issue Brief: 311, Observer Research Foundation, https://www.orfonline.org/wp-content/uploads/2019/09/ORF_Issue_Brief_311_India-Israel.pdf
[11] Cowshish, A. (2022), India emerges as the largest importer of arms in 2017-21, Financial Express, https://www.financialexpress.com/defence/india-emerges-as-the-largest-importer-of-arms-in-2017-21/2460365/