Commentaries
India's Ad-hoc Hydro-Diplomacy on the Brahmaputra
February 11, 2023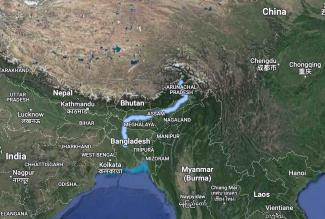 A dramatic title aimed at western influenced security scholars, 'Is China aiming to weaponize water'- in an English daily based in Geneva on 31st January, has once again triggered apprehensions in India of unilateral water diversion in the Brahmaputra River by China. Weeks ago, Kathmandu-based news portal Epardafas first reported that China is constructing a huge dam on the Mabja Zangbo River for a future water war. Due to the strained relationship between the countries, the Chinese dam buildings have created ripples in public discourse.
When India is questioning the role of the World Bank in the most successful 1960 Indus Water Treaty with Pakistan, the news of the Chinese dam building put India into a tight diplomatic spot. A section of military and strategic thinkers who vehemently advocate and promote the use of water from the Indus River System as a weapon in dealing with Pakistan are hurriedly huddling on this Chinese conundrum. India has to tackle the shared water issues with China and others in a cautious and tactical manner.
Meanwhile, with this classical 'Brahmaputra anxieties'- apprehension over Chinese unilateral intervention in the Brahmaputra without prior warning to downstream countries - remerging time and again, here are some specific questions that can be answered immediately. It's better to raise these in the ongoing Parliament session. Does the Union government share similar apprehensions about Chinese damming water in Brahmaputra? Is the Union government capable and efficient enough to disperse this apprehension among its close allies and supporters within India? What mechanisms are being employed by the union government to prioritise the shared water issues with China?
Either the government and its agencies are aware of the Chinese activities potentially critical to India's so-called national security but not very keen to share among the public or are entirely unaware of events happening across the McMahon line. Except on one occasion of China not sharing water flow information as the Ministry of External Affairs briefed the media, India has appreciated the Chinese efforts of timely sharing of information related to transboundary rivers.
From border incursion or construction of military infrastructure to dam building and the formation of artificial lakes, India always gets the news from external sources. From the UPA government's position on Chinese unilateral intervention in Brahmaputra as 'media hype' to NDA-II and III government's media briefing as 'closely monitoring the situation', the Chinese Brahmaputra conundrum remains untraceable and unresolved. Successive governments have deliberately allowed the classic 'Brahmaputra anxieties' to be played out for, at best, fuelling the popular sentiments through loud media scrutiny against China on a mythical path of water war. There is no water war or nor will be, at least, between India and China. This jingoism by a section of the population curtails India's negotiating power with China regarding hydro diplomacy.
However, the official position of the Chinese administration has been constant that none of its projects, either completed or ongoing or proposed, would 'do any harm' to India as a lower riparian country, as all projects are run-off-the river projects. One must be aware that the Chinese are very famous for their secrecy and gargantuan projects. Thus, it's neither verifiable nor independently examined the statements made by Chinese officials. Access to the project sites in China is strictly limited. Earlier incidents of not allowing the Asian Development Bank's Accountability Mechanism to visit a project site in 2008 and recently, the delaying tactics of the WHO visit to Wuhan are striking examples. Thus, India can only follow diplomacy to ascertain the projects and their impacts on the upstream of Brahmaputra.   
The Brahmaputra, as it's known in India, Yamuna in Bangladesh and Yaluzangbu or Tsangpo in China, is the 7th largest river. The transboundary rivers flowing from China to India are clubbed into two groups: the Brahmaputra River system, which consists of the Siang River and its tributaries, and the Indus River system, which consists of the Indus River and the Sutlej River. Interestingly, in 1954 both countries had signed a Memorandum of Understanding (MoU), but the border war halted the progress. However, in 2002 both countries signed an MoU for sharing hydrological information (water level, discharge and rainfall) on the Brahmaputra River during flood season from 15th May to 15th October every year at three locations in China. The MoU was further renewed in 2008, 2013 and 2018. In 2005, another MoU was signed with China to supply hydrological information during flood season at the station with respect to the Sutlej River. The MoU was further renewed in 2010 and 2015. As per all MoUs, India bears the maintenance costs of these four stations.
Subsequently, a consultative joint Expert-Level Mechanism (ELM) between two countries has been meeting annually in alternative countries since 2006. This platform allows both countries to discuss interaction and cooperation on providing flood season hydrological data, emergency management and other related river-related issues. Technically, this platform should erase any apprehension that arises from unilateral interventions or misinformation regarding the transboundary rivers.
Despite several MoUs, mostly ad-hoc and renewable in 5 years, existing between India and China on sharing hydrological information, both countries have a tremendous gap in information sharing on the development of river stretches in their territories. India can resolve these apprehensions through constructive and transparent engagement with China. However, it seems it's the border issue first and foremost for India than water in the North East. Perhaps, the Indian establishment considers the North East of India to be water-rich even though China diverts the Brahmaputra water. It is illogical and unscientific for India to engage in a dam-building spree in its own stretch of Brahmaputra to counter China's motive.   
It's almost certain that China, having the extra edge of being upper riparian, does not need any agreement with India right now, which definitely curtails its freedom to develop water resources till the famous U-bend near Arunachal Pradesh. However, India must persuade China to a long-term water framework on the Brahmaputra River with China at the earliest. As a civilised nation, India neither considers nor uses water as a weapon with its neighbouring countries, which share the natural flow of rivers.