Commentaries
States' Responses to Covid-19 Pandemic in India: The Odisha Model
April 19, 2020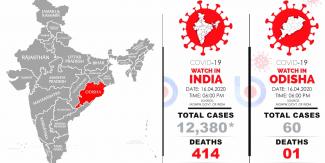 Just within a few weeks since the Covid-19 virus started spreading from Wuhan, China, in December 2019,  it was declared a global pandemic by the World Health Organisation (WHO), consequently affecting lives in 204 countries in varying degrees – some low, others moderate while about a dozen countries seriously affected. Within a span of two weeks, the total positive cases globally have seen 350 per cent increase to touch 2.3 million with death counts crossing 1,50,000 as of April 15, 2020. The US has thus far been the worst affected along with major countries in Europe (Italy, Spain, Germany, France) and the UK, the Middle East (Iran and Turkey) and China. The pandemic is not only visibly threatening lives across the globe, but it is also making pragmatic efforts like medical assistance, infrastructure and preparedness partially ineffective; its global impacts in both macro and micro prisms are yet to be assessed despite sporadic claims by analysts and risk management majors. In addition, there are less credible information and more misinformation, especially in social media, thereby making many assessments less credible. It can be said that it is too early to draw any meaningful assessment.
Pan-Indian Scenario
While many countries affected by the virus are still grappling with basic forms of responses, primarily geared toward three objectives – testing, preventive methods including applicable infrastructure and medical attendance,  India's presumed initial success, based on comparative numerical cases, needs in-depth assessment. Consider these: a) by April 17, India's total positive cases stood just at 13,625 in six states (Maharashtra, Delhi, Tamil Nadu, Rajasthan, Madhya Pradesh and Gujarat) each accounting for more than 1,000 cases; b) 1,778 cases of recovery so far and c) total deaths stood at 450. Such figures, analyzed from any angle, point to relative success, although it may not be the same in coming times. India's nationwide lockdown, starting from March 24 for three weeks, has again been extended up to May 03,  with conditional relaxation from April 20 (2020) in non-red and contaminated zones identified by the government. Fluctuations in red, orange and green zones will be a consistent thing, while pragmatic steps towards addressing various aspects of the pandemic on national life will be assessed periodically. In sum, India's response to the deadly pandemic has thus far shown reasonably good results, thanks to the efforts of the government and different agencies, but more importantly due to a proactive and positive response from the citizens at large. Still, it is a job less than half done.
India's responses to the pandemic situation have largely been determined and shaped by its federal polity – policy and larger national program-based approaches led by the central government with central assistance schemes, while the bulk of implementing mechanisms are met through the state governments. Relative success and failure of the efforts are thus intricately dependent on the states and Union Territories. Here is where the role of the state governments needs deeper examination.
Odisha's Performance
One of the few cases of relative success in India's fight against Covid-19 in Odisha. It is the first state that blended global thinking with local innovative approaches in addressing the pandemic. The state became one of the first in the country to design an 'action plan' for dealing with the ongoing Covid-19 pandemic since early March. A dedicated Covid-19 helpline number was set up well before the nationwide lockdown was announced. It is noteworthy that more than 70,000 calls had been received on the Covid-19 helpline number 104 by March 22, a day before the nationwide lockdown was announced. In addition, Odisha launched a dedicated website, covid19.odisha.gov.in, on March 3 well before the national portal. It was made mandatory for all visitors of the state to register on the portal. An incentive of Rs 15,000 was also declared for all those adhering to the government's appeal of mandatory 14-day quarantine upon return from abroad.
In the health infrastructure sphere, Odisha announced the setting up of two hospitals, with a combined capacity of 1,000 beds, to exclusively deal with Covid-19 cases. Apart from setting up of three special Covid-19 hospitals, the Odisha government also kept 500 MBBS students trained to deal with the Coronavirus pandemic. Besides the state government, the All India Institute of Medical Sciences (AIIMS), Bhubaneswar, has also set up an exclusive Covid-19 unit with 206 beds in its campus in the capital city. Moreover, the AYUSH complex of AIIMS, Bhubaneswar is also ready with 20 isolation beds and ten ventilators as part of measures to handle the situation of exigency. Arrangements had also been made for setting up of similar hospitals exclusively for Covid-19 patients in different parts of the state, including Sambalpur, Jharsuguda, Rourkela, Dhenkanal, Puri and Paradip. The state government has been preparing to engage about 8,000 doctors, staff nurses, pharmacists, laboratory technicians, radiographers, health workers, keeping in view the future requirement. Keonjhar, a district with no positive case till date, has already been ready with 600 beds in three places, including in a school.
By declaring it mandatory for the people to use masks or any two-layered cloth covering mouth and nose while coming out of the house, along with an order which invites fine for non-compliances, Odisha became the first state in the country to extend the 21-day lockdown till April 30, a move followed by other states like Punjab in quick succession, prior to the announcement by Prime Minister Narendra Modi. It also adopted a strategy of comprehensive civic authorities-led effort to carry out active surveillance in most identified areas of the state. In line with achieving the last-mile delivery of essential ration and financial assistance, the state government moved swiftly to distribute through public distribution shops by providing three months' ration and Rs. 1,000 in cash as assistance to each beneficiary. It is learnt that 90 per cent of the total 9.4 million families under this program have already benefited. The state government has also decided to transfer four months' advance salary for doctors, medical and paramedical staffs. Moreover, under the social security scheme, four month's pension allowance in advance has been announced for 4.8 million beneficiaries. The government has also extended assistance sum to the 2.2 million construction workers who are considered the most and immediately affected by the Coronavirus pandemic.
Best Display of Woman Power
Women are at the forefront of this battle in Odisha. They are in vital decision-making positions in the government and non-governmental sector. The key Covid-19 testing centre (RMRC) in Bhubaneswar is headed by scientist Dr Sanghamitra Pati, who along her teammate scientist Dr Jyotirmayee Turuk is involved in aggressive testing to detect cases. Premier health institutions in Odisha such as AIIMS, Bhubaneswar and SCB Medical College, Cuttack are headed by Dr. Geetanjali Batmanabane and Dr.Jayashree Mohanty respectively. The efforts of the women self-help groups (SHGs), active across the state, are being coordinated by Ms Sujata R. Karthikeyan, a senior bureaucrat, who holds the position of the Director of Mission Shakti. More than 7,000 SHGs are working day and night to produce protection gears for those on the frontlines. More than 6,753 women employees of Mission Shakti have been instrumental in managing 5,247 Gram Panchayat-level free kitchen centres in collaboration with the local self-government of the state. They have worked to provide cooked meals to 3, 27,675 (3.27 lakh) people in 5,247 Gram Panchayats and 25,239 people in 108 urban local bodies. Ms Yamini Sarangi, another senior bureaucrat, is heading the Odisha State Medical Corporation (OSMC) as the MD in-charge for procurements of drugs and medical equipment.  Ms Anu Garg, yet another senior bureaucrat, as the principal secretary of the state labour department has been tracing migrant labourers from Odisha stuck across the country during the lockdown. Ms Shalini Pandit, another senior bureaucrat posted as Mission Director of National Health Mission, has been in the core team of Health Department working in contact tracing, sample collection and testing. Thus women-led efforts in Odisha have not only produced considerable positive results but also been a formidable template for other states to emulate.
Still a Long Journey Ahead
The net result thus far for Odisha has been satisfactory, although problems of different dimensions still remain. Bulk of non-registered beneficiaries, constituting about 10 per cent of the total population at the bottom of the pyramid, are yet to receive the government's due attention. Number of tests thus far is still negligible, although the state has taken steps to increase the number drastically. Lapses on the part of the state administration in terms of enforcement of law and order, sporadic defiance by unruly elements, availability of liquor and tobacco products in black markets have been noted. Despite all these factors, Odisha has set a high benchmark of competent governance in fighting a pandemic, whose ubiquity is yet to be understood in totality. Odisha appears to have added another feather in its cap, after a series of success in fighting natural calamities like cyclones. It does not show signs of complacency, which is laudable.