Commentaries
Advantage India's Developmental Aid
March 15, 2022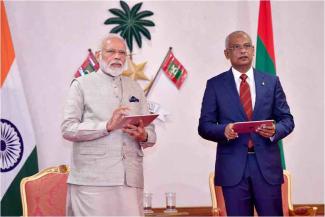 India intends to be a leader in extending sustainable finance for the development of vulnerable countries.   
During Munich Security Conference (MSC) 2022 at Munich on February 19, Bangladesh Foreign Minister AK Abdul Momen in the audience asked panellists how to choose foreign funding for the development. In response, as a panellist, the Indian Foreign Minister S. Jaishankar advised his counterpart to choose wisely sustainable financing. While thanking Japan and India for their help, the minister raised a valid catch 22 questions, though not a new query from Bangladesh, as to what to do if China is coming with a 'basket of money with aggressive but affordable proposals'.
If Bangladesh is trying to put on a theatre of competition, in that case, it seems that India has come forward to set the rules of the international development finance. The Indian Foreign Minister suggested that the country must choose the resources through informed and competitive decisions to avoid commercially unviable, unsustainable and debt-ridden projects.
However, the rules for sustainable development finance are beyond and above these limited but major criteria. Arguably, the set of rules must base on the fundamental premise of an informed decision. Transparency and mutual accountability are the two pillars of informed decision making. Sharing information related to potential developmental projects in the public domain at the very initial stage is a major transparency requirement. Informed decisions are not confined to concerned ministerial decisions only. Citizens of both recipient and investor countries need to be considered when informed decisions are made. Are there any such avenues or mechanisms either in India or Bangladesh?
Neither any World Bank Group's project nor Asian Development Bank's (ADB) project nor any projects funded by bilateral agencies have been approved through citizens' participation of investor and recipient countries so far. A new instrument must be placed at both bilateral and Multilateral Development Banks (MDBs) to include citizens' participation while approving projects as a pointer to raising the bar of global governance. One can take inspiration from the Green Climate Fund (GCF) for approving climate-related projects through civil society participation.
Another set of premises is to avoid commercially non-viable infrastructure projects, unsustainable projects and projects that attract long-term debt or fall into a debt trap. Though, not all commercially viable projects are socially and environmentally sustainable. Most of the privatised urban drinking water projects are unable to fulfil the apprehensions of the urban poor. Millions are campaigning and advocating against the private takeover of public goods in major cities of the World.  
However, the Indian Foreign Minister suggested avoiding infrastructure projects like seaports and airports that are neither commercially viable nor economically sustainable. This is a clear but indirect reference to Chinese investment in Hambantota Port in Sri Lanka and the Entebbe International Airport in Uganda. Such investments are affordable but aggressive as countries draw into a debt trap. Many countries like Kenya, Pakistan, Myanmar, Sri Lanka and Djibouti, in which China is constructing seaports, are already indebted to China. These investments are questioning the indestructibility of the country's sovereignty, as in the case of Sri Lanka.
It must be noted that developmental aid is no charity. Even so, the so-called grants are not charity. It is cloaked with investors' inherent interest despite the best intentions of extending assistance in the infrastructure development of recipient countries. Projects will have strings attached to them. If Bangladesh wants easy money without strings attached to it but that questions its sovereignty, impacts the environment and is not accountable to its citizens, this would be an injustice to the aspirations of the youth of Bangladesh.       
Last but not least, the projects must be socially and environmentally sustainable. This is a vital criterion for all developmental finance to address post-War mal-development. Is Rampal ultra-supercritical power plant in Bangladesh funded by India environmentally sustainable project?  India must demonstrate soon that its funds are for environment-friendly projects.
Over the years, India's development assistance, implemented by the Ministry of External Affairs (MEA) in the form of projects, grants and loans, and several training programmes, has reached many countries covering Asia, Africa, and South America.  Since its Independence, India has extended USD 107 billion to developing countries, including a USD 22 billion line of credits in the last eight years. Bangladesh has received nearly USD 7.8 billion lines of credit from its neighbour since 2001.
In the competition of providing funds to establish, endure and enlarge the sphere of influence or elbowing out other sources of funds, the potential funders must not ignore this set of rules of sustainable finance. Meanwhile, India has already pronounced its intent of a progressive development partnership aiming at China during the India-Central Asia dialogue last December.
India cannot match China's (authoritarian regime) heft in development finance, but it has leverage as a democratic partner. India focuses on reliable, mutually agreed and accountable, transparent, sustainable, human-centric, co-created, unconditional developmental projects with partner countries instead of aggressive, unaccountable, infrastructure-led high risk, non-participatory and duping into debt type developmental projects by others.
While India is talking to like-minded bilateral agencies like Germany and QUAD partners (US, Japan and Australia) on a progressive instrument of financing external developmental projects, it's not surprising to see a new MDB as QDB (Quad Development Bank) in the near future to counter China's basket of money juggernaut. With technological know-how and finance, India can lead a progressive development partnership with like-minded friendly countries to fill in the gaps in trillion-dollar development finance.
(Originally published in OdishaPost, March 10, 2022)