Issue Brief
'Ethico-Political' Implications of Drones in 21st-Century Conflicts
July 08, 2023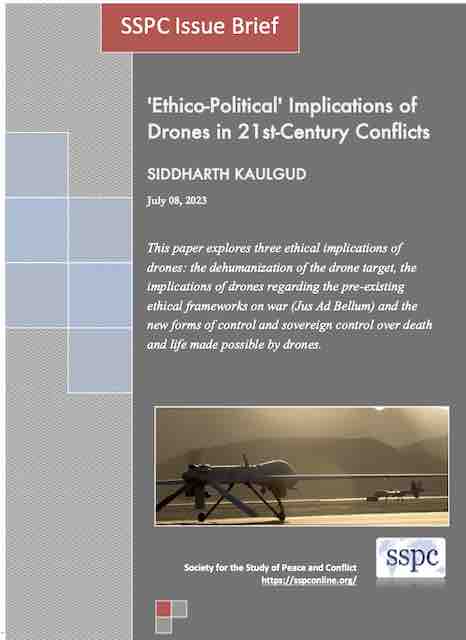 Drone technology is increasingly becoming more capable of autonomous violence and destruction. With drones heralding a new age of warfare and a change like military technology, it is crucial to evaluate drones' ethical and political implications. This is because drones are capable of integrating advanced algorithmic and computer systems, thus allowing a level of mathematical precision to military operations that have never been seen before. Proponents of drones would say that this allows for a reduction in unintended casualties. However, analysis of real-world drone operations has shown that this is not the case. Drones also allow for more advanced and penetrative surveillance and control over people. Given these numerous ethico-political concerns - it is important to explore the place drones have in our world today.
This Issue Brief explores three ethical implications of drones: the dehumanization of the drone target, the implications of drones regarding the preexisting ethical frameworks on war (Jus Ad Bellum) and the new forms of control and sovereign control over death and life made possible by drones.
The views expressed in this article are solely that of the Author.
Cover Image Source: U.S. Air Force photo by Airman 1st Class Christian Clausen/New America/July 03, 2019.