Bird Flu: Secrecy, Negligence and Coming Catastrophe
November 29, 2005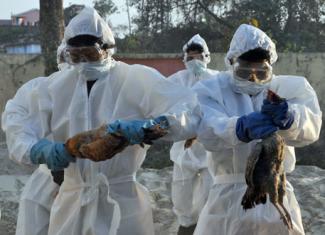 Recently 'Bush and Co' visited Asia to solve the nuclear riddle of North Korea. But along with discussions on nuclear issues at different forums they also attempted to 'educate' Asians on various other issues. President Bush had issued a carefully calibrated call for greater liberty throughout Asia, implicitly comparing the "free and democratic Chinese society" in Taiwan with repression in Mainland China. Talking in context of spread of Avian (Bird) Flu, Secretary of State Condoleezza Rice had also taken an indirect potshot at China. She has expressed an opinion that countries from the South East Asian region should not hide any information regarding the disease spread. Her statement had come at the backdrop of first confirmed human death in China due to the Bird Flu infection.
Secretary Rice has remarked that "We need to improve our ability to communicate accurate, relevant information quickly to the international community, and we must encourage our private sector to help us prepare for outbreaks before they happen." It appears that one of the reasons for the spread of bird flu in the region could be the careless attitude shown by many countries and attitude adopted by them in suppressing the infection with the fear of incurring heavy losses to the poultry economy.
The virulent H5NI virus, which is considered as a major cause for the spread of bird flu infection is rife in the bird population since 1997. The first human death was reported in 1997 because of bird flu in Hong Kong. It is reported that the likely origin of this disease in the recent past is China. Till date more than 65 people have died because of this infection. All these people were working in the close vicinity of the birds. Presently, the major concern is that if this virus mutates and if human-to-human transmission of this disease occurs then preventing the spread of this disease would become virtually impossible and few millions of human deaths may occur.
After confirming the first human death the Chinese government has announced plans for possibly one of the biggest vaccination campaign in global history covering the country's entire poultry stock of 14 billion. This step signifies growing desperation on the part of Chinese authorities because (at least) officially this is the 11th outbreak of bird flu in the country in little more than a month. Also there are some unconfirmed reports that already 300 people have died in China because of this infection.
Arguably, the spread of disease in many parts of Southeast Asia and few parts of Europe has taken place because of the 'secrecy strategy' adopted by many Asian countries particularly China and Indonesia.
The Indonesian government initially neglected all bird deaths but accepted reality only when humans started dying. The policy of the government was found to be so shortsighted that instead of taking proactive measures recently they removed their national director of animal health because she spoke to media that chickens were dying since 2003.
The communist government in China has a long history of hiding many things form the world and infectious disease is one such thing. The SARS epidemic is an excellent example of this. Politically, Chinese leadership had suppressed the reporting of SARS cases. Also, initially China had shown reluctance to join the world's efforts to control the spread of disease by not permitting World Health Organization (WHO) officials to inspect hospital records and case histories in the Guangdong area where the virus is thought to have originated. China must understand that hiding the spread of bird flu is not going to help the country in any way.
Apart from economy, bird flu is likely to create few more problems. All medicine companies do not have patents to manufacture the required anti-viral drugs (e.g. Tamiflu) for this disease. Naturally, companies capable of producing drugs for bird flu are likely to control drug and vaccine markets and at the same time, there could be some cases of violation of patent laws. It is high time particularly for Asian countries to understand the political, economic and human implications of this killer disease. The policies of hiding the disease within and outside the country are likely to make matters worse.
Closer home, it is reported that one of the most contagious strains H5 and H7 are prevalent in Pakistan. The vital question is what would happen to India's most human confidence building measure (CBM) of recent times: the soft borders! If the infection gets reported in the areas close to Pakistan occupied Kashmir, will India allow the crossing points to remain functional? Nevertheless, it is another important matter to ponder over.