Commentaries
Challenging Pirates in Malacca Straits
September 20, 2004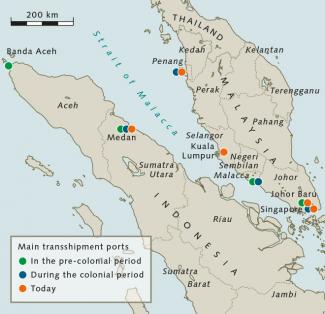 India's External Affairs Minister, Mr Natwar Singh, while attending the ASEAN - plus 3 meetings and the ASEAN Regional Forum (ARF) in Jakarta in July 2004, had noted that India was ready to provide security in the Malacca Straits and stressed that it was in India's national interest to ensure that the Strait remained a crime-free sea-lane. This narrow Strait of about 500 nautical miles between Malaysia and Indonesia carries more than a quarter of world trade and almost all of Japan and China's energy imports from the Persian Gulf, making it a favourite hunting ground for pirates and terrorists. Meanwhile, Admiral Arun Prakash, the Indian Navy Chief has expressed keenness and readiness of the Indian Navy to undertake anti-piracy patrols in the Malacca Straits provided a specific request was received from South East Asian countries. 
According to the 2004 half-yearly sea piracy report published by the International Maritime Bureau (IMB), the number of global piracy attacks on merchant shipping fell to 182 down from 234 for the same period last year. Pirates were responsible for at least 130 incident of vessel boarding and 30 deaths during this time. While the Indonesian waters accounted for the bulk of the piracy-related incidents, the Malacca Straits witnessed 20 attacks as against 15 in 2003. 
The shipping community and merchant mariners are relieved to note that the piracy-related incidents in the Malacca Straits for the month of July 2004 have dropped. This reduction can be attributed to intense maritime patrols currently being undertaken by the navies from Indonesia, Malaysia, Singapore and Thailand. The IMB has observed that there was one serious incident of piracy in the Malacca Straits that occurred on July 26 this year. Armed pirates boarded an Indonesian-registered vessel en route to the Maldives from Port Kelang in Malaysia and subsequently, the pirates took the master and chief engineer of the vessel hostage and decamped with the ship's radio equipment and fuel. Next day a Korean-registered vessel MV Han Jian Tampa with 18 crewmen on board was attacked, but the timely arrival of Naval rescue vessels forced pirates to flee. 
During recent months, the strait has been a centre of tension between the Southeast Asian states and the United States. In April 2004, Admiral Thomas Fargo, Commander-in-Chief, US Pacific Command, (CINCPAC), announced that the US military was planning to deploy Marines and Special Forces on high-speed boats in the Malacca Straits to combat terrorism, proliferation, piracy, gun-running, narcotics smuggling and human trafficking in the area. The deployment was being conceptualized under the Regional Maritime Security Initiative (RMSI). In response, Malaysia had reacted to this initiative and had noted that the US should get permission from regional countries as it impinged on their national sovereignty. Likewise, Indonesia too was averse to the US initiative and wanted that the US must consult regional countries before any effort to fight terrorism in Southeast Asia. Washington is now pushing ahead the RMSI through 'informal contacts with friends and allies in the region'. 
For Indian Navy, patrolling in the Malacca Straits is not new. In April 2002, as part of their bilateral cooperation, Indian and US naval ships had engaged in joint escort duties in Malacca Straits that are home to both pirates and terrorists. The Indian naval ship Sharda had assumed responsibility from USS Cowpens to escort American commercial vessels carrying 'high value' goods transiting through the strait. 
In accordance with a bilateral arrangement, US naval vessels patrolled sea areas in Southeast Asia while the Indian Navy had concentrated in the Bay of Bengal and the Indian Ocean. This initiative had emerged as an outcome of the understanding between New Delhi and Washington to revive the Malabar series of joint naval exercises suspended as a fallout of the 1998 Indian nuclear tests. It was also agreed to recommence joint operations that include search and rescue exercises to help vessels in distress in the Indian Ocean, the Bay of Bengal and the Arabian Sea, the safety of sea-lanes, anti-piracy and issues relating to maritime order at sea.
While these bilateral agreements are a welcome sign, the region has yet to adopt a multilateral approach to maritime security. Post 9/11 international initiatives have shown that to combat terrorism it requires a full spectrum of networked statecraft that includes diplomatic, economic, military, law enforcement, intelligence and public opinion working in tandem. The events have also shown that commonality of opinion; interests, values and a coordinated approach are a must to combat forces inimical to peace and security. But, the regional countries remain suspicious of extra-regional navies and would do anything to stop them from staking a claim in regional security. They do not wish to invite any extra-regional navy to patrol their waters and believe that such a force could be used for "coercion, compellence or a massive projection of power".