Commentaries
India, Bangladesh: Joint Task Force for Countering Militancy
May 27, 2009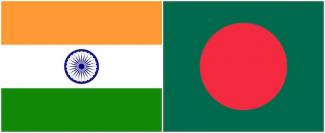 The Government of Bangladesh has recently accepted India's proposal to set up a Joint Task Force to deal with militancy and other anti-national elements. However, modalities of the Task Force are yet to be decided. As of now, India will be assisting Bangladesh with intelligence inputs only without any direct involvement in any joint military operations to flush out militants taking shelter in Bangladesh.
According to initial statements made by the Bangladeshi Prime Minister Sheikh Hasina Wajed, her government planned to involve neighbours in working out an effective mechanism such as the establishment of a task force to fight militancy and terrorism for peace and stability in South Asia as militancy and terrorism are not confined to geographical boundaries. Additionally, she stressed consultations with neighbours for effective measures to contain and eradicate militancy and terrorism. Regarding issues concerning whether the task force would only involve South Asian countries, she said that "the government could go beyond the region to work out the mechanism to face the menace of terrorism depending on the response of the countries with which Bangladesh has friendly ties." This might include the United States and Britain.
India is looking forward to working closely with Bangladesh for combating terrorism in the region with the friendly Sheikh Hasina government now firmly in charge of Dhaka. In fact, the Indian High Commission in Dhaka had earlier said that the two countries would work together against terrorism.
The decision to form a Joint Task Force came after a few "positive" developments in Bangladesh. First, the Bangladesh election brought Hasina's Awami League and her alliance at the centre who is regarded as an anti-Islamist and pro-Indian leader.
Secondly, February 2009 visit of India's External Affairs Minister to Dhaka where the leaders pledged to take concrete steps to eradicate terrorism from the region. In this regard, Sheikh Hasina suggested the formation of a Joint Task Force to deal with the security concerns in the region. This was followed by visits of top US officials who also endorsed the idea. Additionally, Dhaka has since made moves to reach out to other South Asian nations, bilaterally as well as under the aegis of the South Asian Association for Regional Cooperation (SAARC) where combating terrorism has been a major regional issue. However, Pakistan has been reluctant to endorse the idea and has reportedly viewed it as an India-US ploy to include Bangladesh in a South Asian effort to undermine Islamabad's regional position. 
Thirdly, Sheikh Hasina has recently initiated a trial on 1971 "war criminals", those who worked against the freedom struggle of Bangladesh. It has sent a shockwave amongst Bangladesh extremists who have been receiving support from Pakistan. Finally, in February 2009 mutiny by Bangladesh Rifles (BDR), which led to a security crisis within Bangladesh, brought the military and political forces in Bangladesh closer.
It should be noted that the efforts towards joint anti-terrorist or security operations between India and Bangladesh started soon after Sheikh Hasina came to power. In this regard, a joint counter terrorist military exercise took place in Jorhat, Assam and West Bengal's Jalpaiguri in February-March 2009 despite the February Mutiny by the BDR. Additionally, joint patrolling has always been in operation on both sides of the borders. These events are stepping stones for re-building strong regional ties and trust between the two countries.
However, Bangladesh's opposition leader Begum Khaleda Zia has strongly opposed the setting up of a South Asian task force to combat terrorism, alleging that Prime Minister Hasina was using it as an excuse to bring foreign troops into the country. Begum Zia asserted in a recent rally that her government (2001-06) had successfully eliminated militancy in the country. 
The decision for the establishment of the Joint Task Force came at a very appropriate time for India particularly when Delhi is becoming increasingly concerned about its security from its eastern border principally since the attacks in major cities of India in 2008 as most of these terrorist attacks were having their links in Bangladesh. Additionally, for the last two decades, Dhaka has supported many northeast rebel groups and provided them with safe haven. According to some reports, the leaders of the United Liberation Front of Asom (ULFA) like Paresh Baruah and Arabinda Rajkhowa have fake Bangladeshi passports and travel documents, which they can use to escape from their bases in Bangladesh. In this respect, it may be noted that in certain quarters it is believed that the entire ULFA leadership has shifted its base to China. According to the recent investigation in Bangladesh, Hafiz Rehman, one of the accused of March 2004 weapons offloading consignment from China for ULFA, confessed before Metropolitan Magistrate that Paresh Barua was helped by Chittagong Urea Fertilizer Limited, Coast Guard, the then chiefs of the Directorate General Forces Intelligence and National Security Intelligence to offload weapons and ammunitions which were enough to arm a whole military division.
Further, the recent escalation of Islamic militancy in the northeast has made the security of India a challenge to deal with. Also, the recent mutiny in Bangladesh has made border security on India's eastern border vulnerable for infiltration, illegal migration and smuggling of contraband due to the absence of the security forces on Bangladesh side. Thus, the Joint Task Force can help eliminate the militant groups in the country by sharing intelligence and, if possible, conducting joint anti-insurgency operations. Such endeavours can be a major gain for both India and Bangladesh in days to come as this will facilitate both countries in dealing with insurgency and militancy and is also likely to build strong bilateral relations between them.