Commentaries
Mosquito Menace in India: Chinks in Health Care Establishment
November 04, 2006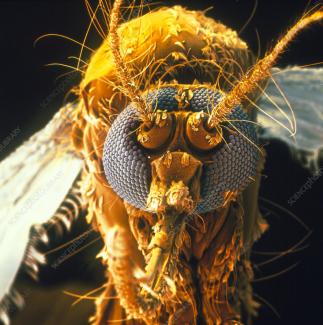 Consider this: The reputation of All India Institute of Medical Sciences (AIIMS), New Delhi, regarded a premier institute for thousands of medical and health care professionals, students and researchers, has been tarnished by a deadly dengue outbreak. How ironic it may sound, the sprawling premise, cramped with quarters and not far from an active but stagnant drain, actually serves as a haven for mosquitoes and other disease-carrying vectors. The sudden death of a student of AIIMS, suffering from Dengue, a viral fever, came as a jolt to already complacent inmates and otherwise careless Delhites. It is impossible to believe that this incident happened at one of the best hospitals situated in the capital of India. 
Dengue (caused by Aedes aegepti ) and Chikungunya ( caused by Aedes albopictus), both have struck different parts of India in a deadly way during this monsoon season. Dengue is a viral disease common in tropical especially in areas where mosquitoes are not well controlled. Transmitted by the Aedes mosquito, both dengue and chikungunya spread when the mosquito bites an affected person & then a healthy person. Aedes is a small mosquito with black and white stripes on its legs and back. It thrives in places overflowing with sewage, rubbish-heaps, and puddles of water flooding dirt lanes and shacks. It prefers congested cities, domestic atmospheres and mostly breeds in man-made containers that collect water. It normally bites in the early morning and late afternoon hours. 
Dengue fever has symptoms like high fever, headache, joint pain and usually subsides in 3 to 5 days. But it can turn into fatal leading to conditions like Dengue Haemorrhagic Fever (DHF) & Dengue Shock Syndrome (DSS) if proper treatment is not given in time. The most severe form of dengue is DSS in which the patients may die within 12-24 hours of getting bitten. With a high mortality rate, the patient's condition goes through phases of bleeding, low platelet count and low blood pressure. Without any vaccine till date, preventive measures are the only way to control the spread. 
By Oct. 20, 3407 dengue cases had been reported with 47 deaths in India. Delhi alone had 1029 cases with the 23 fatalities. After nine days, (Oct. 29), 172 fresh cases of dengue were reported nationwide. The latest update from the Health Ministry indicated (as of Nov.4) 9453 cases and 157 deaths as a whole including Delhi. Delhi has 79 new dengue cases with the death toll reaching to 54. Apart from Delhi, the States affected by the dengue virus are Rajasthan with the highest 1224 cases, followed by Punjab with 922 cases and West Bengal with 864 reported cases. Other affected states are Kerala, Uttar Pradesh, Maharashtra, Gujarat, Haryana, Tamil Nadu, Andhra Pradesh, and Karnataka. 
Chikungunya figures are even more appalling. There had been over a couple of thousands of suspected cases with nearly a hundred dead in India. Surprisingly, reporting on the disease situation the Health Ministry has indicated a total number of 1695 confirmed cases with 'no deaths' as of Nov. 4. A total number of 40 cases have been reported from Delhi and National Capital Region (NCR). Apart from Delhi, the maximum number of confirmed Chikungunya cases have been reported from Maharashtra (684) followed by Karnataka (294) and Andhra Pradesh (248). Other affected states are Gujarat, Tamil Nadu, Madhya Pradesh, Kerala, Rajasthan, and Pondicherry.
These statistics notwithstanding, the major questions arise here: who is responsible for this situation and who is the actual culprit (except the vectors) for these epidemics? 
The blame game has become part of the process nowadays. While the municipal bodies put the onus on the citizens to check the spread of these epidemics, citizen's lament at the callousness of municipal authority. From Municipal authorities to citizens, all are guilty and can be considered as culprits. Experts believe, more care should have been taken since the last strike of dengue in 1996, which got more than 10,000 people affected in Delhi. Shockingly, the carelessness and total apathy towards creating a better healthy ambiance has again brought back the epidemics on a larger scale. 
It has been rightly observed that the system is not the only one to be blamed. We, the common Indians, if not less are equally responsible. 
When the blame game starts fading, introspections do its rounds in the political corridors in Delhi. Prime Minister Manmohan Singh has reportedly instructed the Union Health Ministry to transform its disease surveillance programme into an early warning system on epidemics. Singh also said the Integrated Disease Surveillance Programme (IDSP) should be made accountable for any failure in the prediction of outbreaks. 
In a similar vein, Delhi High Court rapped the state government, Municipal Corporation to explain the criteria to declare any disease as an epidemic. Coming down heavily 0on the Government, it said: "Despite the fact that the death toll is on the rise, the government has not woken up as yet." 
Anguished High Court asked a pertinent question to the Delhi government. "Are you waiting for few more death cases to declare Dengue as an epidemic?" It says a lot!