Commentaries
Mummified Climate Talks In Egypt: Least Expectation
November 12, 2022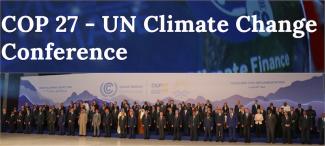 Expectations from this chapter of the climate conference may not be substantive.  
A climate activist friend responds to a query in social media suggesting the failure of the ongoing climate change talks in Egypt despite her regular attendance at several climate conferences, known as Conference of Parties or COP. While the UN-sponsored annual climate change conference is ongoing (6th-18th November) in Sharm El Sheikh, in Egypt, the Prime Minister of Tuvalu has initiated a petition in Avaaz – the powerful global online activism platform, urging world leaders to ink for a Fossil Fuel Non-Proliferation Treaty (FF-NPT). One of the major stakeholders, the agitated youth, would immediately hint towards a definite failure of yet another climate negotiation in addressing climate emergency.
In world politics, the non-proliferation treaty (NPT) is usually linked to high-profile nuclear spreading among countries that originated during the late 1960s at the height of the Cold War to restrict its dispersal. Perhaps, the Prime Minister of Tuvalu must have intended to bring climate change as the highest political agenda during COP 27 by urging a fossil fuel NPT! However, fossil fuel won't lose its anti-hero image sooner or by 2080, as agreed in Paris (COP21) in 2015. Why, then, the Minister of External Affairs of India has been fighting tooth and nail, as his only occupation in the South Block (office of Ministry of External Affairs nowadays) to defend exporting oil from Moscow since Russia invaded Ukraine in February this year. Despite the campaign against frequent flying and using private jets gathering steam, the only major culprit causing climate change, fossil fuel, will stay for the time being, whether we like it or not.
Meanwhile, there is no rush among world leaders as it was prior to the Paris climate talks and during the COP21. There is also no legacy to be left by Abdel Fattah El-Sisi, president of a developing country, i.e., Egypt, the host for climate talks.  Despite this 27th chapter of climate talks open to approximately pre-Covid attendance (33,449 participants), the joy among civil society members in actually returning to physical travelling is unmatched by the lacklustre bonhomie of world leaders to forge a reliable and verifiable climate pact. Rishi Sunak, who immediately after his election as British Prime Minister was reluctant to attend the COP27, joined later but left a live panel discussion on the forest abruptly. Even the G-20 Summit in Indonesia (November 14-16) gets the lion's share than COP 27 in usual media advisory, press releases, or tweets from MEA of India.
In high probability, the last two days may witness a declaration and some movements among the leaders, but that won't be sufficient. While many blame the inaction in climate talks for the futile and impulsive Russia-Ukrainian war, others find fault in the global recession due to the pandemic. Is that so?
Whereas member countries are bending the trajectory curve of GHG emissions downward, common but differentiated responsibilities and respective capabilities (CBDR+RC) principles, in short, global efforts, remain substantially insufficient to limit global temperature rise to 1.5 degrees Celsius by the end of the century. COP27 is taking place against this inadequate ambition to curb GHG emissions. According to the UN, emissions need to be cut by 45% by 2030 if countries and their leaders want to limit temperature rise by the end of 2100.  
Even though the Paris climate change agreement was indeed a collaborative and cooperative global climate governance model, it allows member countries to emit GHGs according to their whims freely and voluntarily, not legally binding emissions cut. Since last year's COP in Glasgow, only 29 out of 198 parties came forward with improved and progressive national plans to curb emissions.
So far, the only positive in this climate negotiation is traction on loss and damage (L&D), the second most contentious issue between economically rich and poor countries after the Kyoto Protocol. Loss refers to 'negative impacts in relation to which reparation or restoration is impossible', while damage refers to 'negative impacts in relation to which reparation or restoration is possible. L&D incorporates climate change-related loss and damages that have not been avoided through mitigation or adaptation.  Who will pay for the L&D induced by climate change? Is there any consensus among industrialised countries on what constitutes climate change-induced disasters like floods, cyclones, drought, and sea level rise in poorer and climate-vulnerable countries? Will the compensation be enough to bounce back and become resilient societies? The bones of contentions will be on addressing incurred and future loss and damage, non-economic dimensions, inclusion with or separation from adaptation, liability and responsibility, compensation regime and funds etc. The negotiations over the L&D will be bitter and undoubtedly prolonged.
Of late, pitching for climate justice, India has maintained that the link between adaptation, disaster risk reduction and loss and damage is important. While reiterating the road map existing under Sendai Framework for Disaster Risk Reduction (2015-2030), India demands an urgent need for finance to undertake activities for early warning systems, disaster risk reduction, loss and damage and capacity building at all levels in India. Meanwhile, India has already issued a statement at the beginning as this should be 'COP of Action' with key deliverables having a specific target on defining climate finance, outcomes on adaptation and L&D. The rich countries would definitely find means and ways to divide between the developing and most vulnerable countries to extend the L&D aid.      
It is good that at least world leaders are returning to the negotiating table every year on climate change, irrespective of their outcomes. As the 'when is now' movement questions the inaction of countries gathering strength among the NGOs, leaders are evading the responsibilities with success in delaying achieving the concrete climate commitment in action. Like on coal, the trust in UNFCCC-sponsored COPs have been 'phasing down' if not 'phasing out'. In all probability, the talks won't bring any drastic cuts to the GHG emissions at the land of Mummies.