Opinion / Analysis
Transnational Terror: Lashkar-e-Taiba's Chicago Plot
November 09, 2009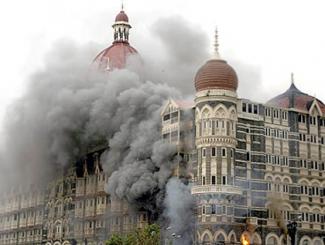 Three names have been doing the rounds in India these days: Maulana Ilyas Kashmiri, David Coleman Headley (a.k.a Dauod Geelani) and Tahawur Hussein Rana; one hardcore veteran Jehadi and two motivated 'would be' terrorists. They are in the news for plotting major assaults in India. Among them, Ilyas Kashmiri who was rumored to be dead early this year, in fact, survived three drone attacks in Pakistan's Waziristan region, belongs to the Al Qaeda- Harkat-Ul- Jihad- Al-Islami (HuJI) lineage and heads Al Qaeda's deadly 311 brigade. He still carries head money of US $ 600,000 dollars. His name resurfaced when a report was published in the Asia Times last month. The semi-biographical report titled, "Al-Qaeda's guerrilla chief lays out strategy" was written by Syed Saleem Shahzad of Pakistan who interviewed Ilyas Kashmiri about his future terror plans at his den and on his invitation.
In early September 2009, Pakistani officials and Western intelligence agencies believed that Ilyas Kashmir, Al Qaeda/HuJI operations chief in Pakistan and another close aide of Bin Laden, an Uzbek terrorist commander identified as Nazimuddin Zalalov (a.ka. Yahyo) have been killed in missile attacks in Turrikhel area of North Waziristan.
The other two names, Headly and Rana came as a bit of surprise to many in India and in the US. But their plan made one thing clear about the intention and capability of terrorist outfits (like LeT, Al Qaeda and JeM) that have a transnational reach and global Jihadi agenda. These two men are part of a Lashkar-e-Taiba plot to attack major landmarks in India and Denmark. The US investigating agencies, including the Federal Bureau of Investigation (FBI) have so far neutralized what is now dubbed as LeT's 'Chicago Terror Plot'. Headley was arrested early in October 2009 by the Joint Terrorism Task Force at Chicago's O'Hare International Airport. He was reportedly planning to travel to Pakistan in near future to meet Ilyas Kashmiri and other terrorist leaders. His accomplice and co plotter Rana was arrested from Chicago later in that month.
According to FBI affidavit filed in a Chicago court, Headley had visited Pakistan a number of times before and constantly in touch with his LeT handlers (two Pakistan based LeT terrorists are still to be identified) in Pakistan through emails. As per the FBI the email communications revealed that a LeT mastermind in Pakistan was placing a higher priority on using Headley to assist in planning a new attack in India than on completing the planned attack in Denmark (facilities of Jyllands-Posten, the Danish newspaper which carried a cartoon strip of Prophet Muhammad in 2005 and perhaps (I suspect) a commando type assault during the upcoming Climate Summit). Any audacious attacks on these spots (and in India) would have given Lashkar-e-Taiba a position parallel to Al Qaeda in the international terrorism arena.
In June 2003, FBI made a similar breakthrough arresting at least seven Lashkar sympathizers or would be terrorists from in and around Washington region (3 from Maryland, 3 from Virginia and one in Pennsylvania), for providing material support to LeT.
The latest foiled LeT plot targeted vital landmarks, installations, and elite boarding schools, as per the FBI investigations. The LeT is obviously planning Nov 2008 Mumbai type assaults in India and the possible targets were National Defense College, New Delhi, Doon School in Dehradun and Woodstock School in Mussoorie. It has been reported also that these terrorists have major plans to target the American and the Israeli nationals in India.
We find nothing new about the latest and earlier Lashkar planning to target India, Israelis, and Americans. The threat emanates from LeT is still vivid in public memory: during October 2000 annual convention of the LeT in Lahore's Gulshan-i-Iqbal park where LeT chief Hafiz Saeed uttered anti-India and Anti Israel rhetoric following a blast that took place near the venue. He held India and Israel responsible for the blast and threatened revenge; and of course, his infamous utterances that LeT would plant the 'flag of Islam' in Washington, Tel Aviv, and New Delhi.
Barely twenty more days to go when India will observe the first anniversary of Mumbai terror mayhem (26/11, 2008). The memory of those sixty odd hours of the ordeal will again haunt us for some time and then 'business as usual'. The question to ponder here is how far we have progressed so far since 26/11, especially to fight the menace like Mumbai or Chicago type assaults and plots.