Commentaries
MMRCA 2.0: Curious Case of India's Military Procurement Decision Making
August 31, 2018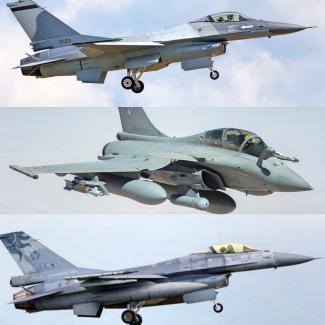 It appears India is in a perpetual search for the acquisition of fighter aircraft – an important arsenal for the Indian Air Force (IAF), which is woefully short of its sanctioned strength (39.5 squadrons). Although calculations available in public domain vary – ranging from sanctioned 39.5 to ambitious 42 / 46 squadrons for the IAF to maintain its combat edge – slightly over 30 current squadrons with fast depleting MiG fleet put the IAF in a difficult spot, despite braggart assertions from highest-level military commanders about India's growing military aerospace prowess. While complementing assets like reconnaissance, surveillance, transport systems of IAF are getting relatively regularly replenished or strengthened through acquisition in smaller numbers, the combat component as the core of IAF is deficient, to say the least. This is problematic and worrisome for the state and the IAF.
Nowhere in the world, tender for a big-ticket item like fighter aircraft in such a large number had been placed till India did in 2004, when it floated a request for information (RFI) for 126 medium multi-role combat aircraft (MMRCA) at a cost of INR 43,000 crore, to which six aerospace producers from four countries (US, Russia, France and Sweden) and one continent (EU) responded to the Request for Proposal (RFP), floated in 2007. RFI normally precedes elaborate national military acquisition planning, a process that ab-initio commences from each of the services' weapons and equipment (W&E) directorates. Given India's previous records, it would not be wrong to assume that necessity for such a tender must have been factored into the IAF's planning since 2001-02. In sum, IAF is without a single new combat machine for the last 18 years.
The 126 MMRCA tender underwent rigorous technical trials and subsequently commercial negotiations through 2012-13 when Rafale, produced by the French Dassault Aviation, was declared the eventual winner. A bout of allegations on a series of large-scale commercial cases, including MMRCA, followed. The new government subsequently scrapped the MMRCA deal and signed a one-off 36 Rafale deal, signed in 2017, the decision and processes of which are being questioned by the opposition now – a time that all political parties are gearing up for the forthcoming national elections in 2019. If India's military procurement history is of any indication, IAF may receive a Rafale or Tejas individually or simultaneously not before 2020. In sum, again, IAF is without a new fighter for two decades. 
It is now reported that a fresh tender for 110 fighter aircraft (hereafter, MMRCA 2.0) has commenced. Although details are yet to emerge, the latest tender, RFI for which was sent, interestingly, to the same bunch of producers, is expected to proceed at a usual pace and it is assumed that RFP for the tender could well be sent to the vendors by mid-2019, a time when the current regime could either continue or change, depending on the outcome of the mood of the country.
If military acquisitions go beyond political regimes, often times they do, the procurement process for the 110 MMRCA can only be adjusted after the next regime comes to power. Even if the procurement process is shortened (643 technical parameters for earlier 126 MMRCA tender be reduced/supplemented, time for technical trials reduced, time for commercial evaluations drastically reduced for 110 MMRCA tender), it is reasonably assumable that the final contract may not be signed any time before 2022-23 – time for another national election in 2024, when the opposition could oppose the decision of the government again. In sum (again), IAF may get a few Rafale or Tejas, but a quarter century of military preparedness would be lost due to delayed acquisition – a situation IAF can ill-afford in a fast-paced aerospace technological environment and increasing multi-dimensional threats from non-state actors as well as fluid global security situation.
Who should a citizen blame for such a mess? I cite four actors – the state (government machinery), the armed forces (in this case, IAF), the watchdog (Parliament and watchdog agencies like CAG), and the media.
First, at the highest political decision-making level, a large military procurement is approved by the Cabinet Committee on Security (CCS), presided over by the Prime Minister. Ministry of Defence acts as the processing / implementing machinery in the whole process. Mess and colossal loss of public money are thus attributable to the state and its bureaucracy in the first place. Second, IAF is the originator of the demand and the final recipient of the product. Much depends on how IAF looks at it in a wholesome manner – from threat perception prisms to eventual induction of the demanded system. Defence planning comes as the second factor, which needs scrutiny. Third, Parliament is the highest level institutional watchdog, which has the authority to question the state wisdom, in a proper manner, and hence must question, through its multi-disciplinary / multi-party existence as to what ought to be done to stem the rot in military procurement. Powerful multi-disciplinary institutions like Parliamentary Standing Committee on Defence, along with accounting watchdogs like CAG, can play a decisive role in questioning state wisdom. And last but not the least, the national media is the only connection between state wisdom and ground reality, a task that it has performed miserably for the last several decades on defence issues. An engaged citizenry is a force that can make the state accountable.
[Originally published in the Financial Express, August 21, 2018]