Commentaries
Pakistan: Between Devil and Disease
December 07, 2013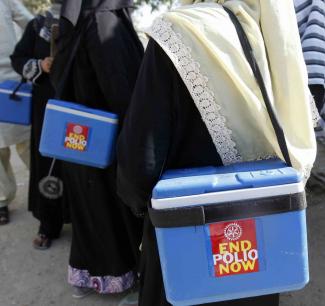 In late November 2013, doctors working for the Kurdish Red Crescent in Syria traced a deadly strain of poliovirus to Pakistan. The vectors of the virus are unknown, but the needle of suspicion is on the Jihadi elements who have traveled all the way to Syria from the tribal badlands of Pakistan where a government polio eradication campaign has been marred by Taliban zealots for the past many years.
Polio (Poliomyelitis), a deadly infectious disease better known for its paralyzing effect on children, has been resurfacing in countries like Pakistan, Afghanistan, and Nigeria where the civil administration and health apparatus are more or less defunct due to sub-national conflicts and due to stiff resistance from the religious conservatives against the vaccination program.
According to a World Health Organization (WHO) estimate, at least 72 polio cases were recorded in Pakistan in 2013 as compared to 58 cases in 2012. Neighboring Afghanistan, according to that estimate, only has nine cases until November this year. The most affected provinces of Pakistan are Punjab, Sindh and the Khyber- Pakhtunkhwa (KP, erstwhile Northwest Frontier Province).
Pakistan is one of few countries in the world where polio remains endemic, due to a host of human-induced factors. Taliban militants in Pakistan have stepped up their armed campaign against the aid workers and security personnel involved in the vaccination program on many occasions in the past. The month of November itself witnessed at least two major incidents targeted at the vaccination program. On November 30, a security official was killed in Peshawar who was providing security cover for the health officials associated with the program. A week before this incident, on November 21, the Taliban-affiliated Lashkar-e-Islam militants have abducted 11 schoolteachers from a private school in the Barah Sipah area of the Khyber Agency. The teachers were later freed a couple of days later, following intervention from a local tribal council.  Earlier in October, militants attacked a police vehicle which was protecting a polio vaccination team in Peshawar.
The most gruesome of incidents took place in mid-December 2012 when Taliban militants have disrupted a three-day national polio vaccination campaign killing at least 9 polio health workers including females in a string of attacks across Pakistan. Five people were killed in different incidents of a targeted attack in Karachi while four health workers were killed in Peshawar, Charsadda and Nowshera areas of KP province. All the victims were working with the UN-backed program to eradicate polio in the country. The Tehreek-e-Taliban Pakistan (TTP) and Jundallah claimed responsibilities for these attacks. 
Mullah Fazllulah, the pro-Taliban leader of the Tehreek Nifaz-e-Shariat-e-Muhammadi (TNSM) had initiated an armed campaign against the government's anti-polio drive in 2006 and 2007 in Swat and Malakand regions. The situation has been alarming since the Pakistani Taliban issued proscription orders on polio vaccinations. Fazllulah, the present leader of Taliban umbrella group TTP, along with his armed followers carried out a virulent campaign against the polio vaccination program in Khyber-Pakhtunkhwa through his regular radio sermons. Pro-Taliban Islamic clerics and militant leaders have cited many religious reasons to prove it anti-Islamic and termed the vaccination program as a Western conspiracy to render Muslims infertile and impotent.  It was alleged that the whole polio eradication campaign was part of Western espionage against the Muslim Ummah. Some clerics even declared jihad against the polio vaccination workers in Pakistan. The situation became grim following the hepatitis vaccination program that was believed to have helped in tracking down and killing of Osama bin Laden at his hideout in Abbottabad, Pakistan.
Because of the TTP's fierce opposition to the polio vaccination program and intermittent attacks on the health workers, there is a genuine concern that this highly infectious disease could spread further mostly to the neighboring countries, where polio has been eradicated, mostly in the Middle East and South Asia. Fearing a possible resurgence of polio, India meanwhile has initiated steps to prevent spillover from Pakistan and put in place travel restrictions. The Indian High Commission in Pakistan cautioned that persons (adults and children) 'traveling to India from Pakistan after January 30, 2014, are required to obtain oral polio vaccination at least six weeks prior to their departure to India.' This is the least a country can do to prevent the recurrence of the disease within its political boundaries. However, the onus is on Pakistan and its conservative religious leaders to join hands together to quell the targeted violence against its health workers and humanitarian agencies and simultaneously fight the deadly virus which could cripple a whole generation of Pakistan.