Commentaries
Reminiscing KBK Plan: Myth and Reality of Development in India
September 27, 2006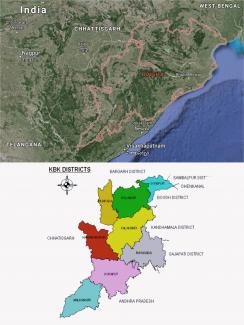 Recently during Prime Minister Dr. Manmohan Singh's maiden visit to Orissa, once again it was re-established that the most powerful word that drives the politicians and bureaucrats in contemporary Orissa is the infamous three-letter word KBK (Kalahandi–Bolangir–Koraput). It has been more than a decade that KBK area has been showered with specially designed programmes, grants, and so many high profile visits. Unfortunately, the benefits of all these assistances are yet to reach the people of the region. While the state government is making no stone unturned to make the state a mining hub and a new destination for industrial investment, the ghost of KBK is still a force to reckon with the politics of Orissa.
In its recent report the New Delhi based Institute of Applied Manpower and Research, which is entrusted by the Union government to review the KBK programme revealed that despite of the Central aid of Rs.4544 Crore under the KBK head (1995-96 to 2005-06), it has not really changed the living condition of the people. Consequently, the Governor of Orissa, Rameswar Thakur recently observed that despite a huge chunk of money has been spent; it has not really changed the situation what it was in early 1990s.
The undivided districts of Kalahandi, Bolangir and Koraput are universally known as the most backward regions in India. After the reorganizations of districts in Orissa, these three districts were divided into eight districts, i.e. Kalahandi, Nuapada, Bolangir, Sonepur, Malkangiri, Koraput, Gajapati, and Nabarangpur. Statistically speaking the total area of these districts are 47.646 thousand square kilometer; the total population is of 72,490,691; and among all the 80 revenue blocks, there is only one block which is developed, three blocks are developing, 28 blocks are backward and 49 blocks are declared as most backward.
It was during early nineties that Union government recognized that those areas being backward had been grossly neglected in the fields of agriculture, education, health, industrialization, irrigation, employment, social and economic development. To bring about rapid economic growth for minimizing the economic gap in this region, then Prime Minister of India, PV Narasimha Rao declared a special Kalahandi-Bolangir-Koraput or KBK Yojana in 1995 at Koraput. It was declared that from 1995-96 to 2001-02 a total sum of Rs. 6654.44 Crore would be spent through KBK Yojana under the Revised Long Term Action Plan.
Despite the much-hyped declaration, subsequent events suggest that no separate provision were made in the Union budget in the name of "KBK Yojana". It was mentioned in the third Revised Long Term Action Plan that in the field of rural development other then the allotted money of central plan there would be an additional requirement of Rs. 715.15 Crore. Similarly, in the field of agriculture, health and family welfare, employment etc. there will be an additional requirement of Rs. 789.35 Crore. Going through such calculations the Union Ministry of Finance decided to provide an additional amount of Rs. 1503.85 Crore only. Subsequently, another Central delegation headed by Yugandhar, the then Secretary of PMO, after holding discussion with the state government observed that at both the stage the required amount is Rs. 4859 Crore. In addition, after deducting the already allotted central assistance of Rs. 4282.39 Crore in those areas, it calculated that another Rs. 576.61 Crore could be provided for these areas. Finally, the grant amount came down to only a sum of Rs. 389.21 Crore. In the subsequent years what was provided in the name of KBK Yojana or Revised Long Term Action Plan was far below from what was announced originally.
The undivided districts of K-B-K are predominantly tribal inhabited and majority of its population are deprived of the bare necessities of life, forget about the comforts. Taking account of the deplorable socio-economic condition of these districts, the KBK programme would have been a milestone had it focused on Primary Education, Higher Education (Medical College, Agriculture College, Mining school), Irrigation (small and medium), Livelihood, Health care and sanitation, Agro based industries, cooperatives etc. But this was not done. Instead the government took a short cut and marginally increased central aid to these districts; as a result the people of KBK did not get any major benefits from these programmes.
Arguably, KBK is a national issue, it's a challenge on India's concern for human development and the goal along with the whole implementing mechanism of KBK Yojana needs a strong revision. If this is not done then whatsoever amount may be sanctioned it will never reach to the hungry stomach of the poor and needy people of KBK.