Commentaries
Rohingya Muslims of Rakhine: Still Caught Between the Deep Sea and the Devil
December 20, 2019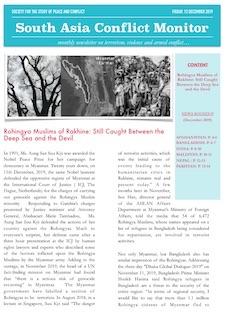 In 1991, Ms. Aung San Suu Kyi was awarded the Nobel Peace Prize for her campaign for democracy in Myanmar. Twenty years down, on 11th December 2019, the same Nobel laureate defended the oppressive regime of Myanmar at the ICJ, Hague, for the charges of carrying out genocide against the Rohingya Muslim minority.  Responding to Gambia's charges presented by Justice Minister and Attorney General, Abubacarr Marie Tambadou,  Ms. Aung San Suu Kyi defended the actions of her country against the Rohingyas. Much to everyone's surprise, her defense came after a three hour presentation at the ICJ by human rights lawyers and experts who described some of the horrors inflicted upon the Rohingya Muslims by the Myanmar army. Adding to the outrage, in November 2019, the head of a UN fact-finding mission on Myanmar had found that "there is a serious risk of genocide recurring" in Myanmar.  The Myanmar government have labelled a section of Rohingyas to be terrorists. In August 2018, in a lecture in Singapore, Suu Kyi said "The danger of terrorist activities, which was the initial cause of events leading to the humanitarian crisis in Rakhine, remains real and present today." A few months later in November, Soe Han, director-general of the ASEAN Affairs Department at Myanmar's Ministry of Foreign Affairs, told the media that 54 of 6,472 Rohingya Muslims, whose names appeared on a list of refugees in Bangladesh being considered for repatriation, are involved in terrorist activities.
Not only Myanmar, but Bangladesh also has a similar impression of the Rohingyas. Addressing the three-day ''Dhaka Global Dialogue-2019'' on November 11, 2019, Bangladesh Prime Minister Sheikh Hasina said Rohingya refugees in Bangladesh are a threat to the security of the entire region. "In terms of regional security, I would like to say that more than 1.1 million Rohingya citizens of Myanmar fled to Bangladesh in the face of persecution and they are a threat to the security not only for Bangladesh but also for the region."
On the contrary, for the last decade, the UN has been reiterating that the situation as "deeply depressed" and has been urging Myanmar to assume responsibility by dealing with the "root causes" of the Rohingya Muslims's exodus and work towards their safe repatriation. In response, Myanmar has turned a deaf ear to UN observations by knowing fully well that the most extreme measure the international community can impose are economic sanctions; a method that had never been successful before.
According to the UN, as of 24th May 2018, more than 9,00,000 Rohingya Muslims have fled Myanmar's restive Rakhine State since 1978 after the eruption of communal violence between the Buddhists and the Muslims, followed by a military crackdown in 2016 and 2017. The exodus of refugees in large numbers has resulted in a major crisis in neighbouring Bangladesh.
Are the Rohingyas demons?
Myanmar's accusation and Bangladesh's perception of the Rohingyas as terrorists is perhaps validated due to the reportage of the involvement of Muslim migrants in a series of terror strikes in Europe and Bangladesh since 2014. There has been a constant concern of the Rohingyas rising sympathy regarding the Islamic State also known as the Islamic State of Iraq and Syria's (ISIS). Close to 20 foreigners were reportedly killed by ISIS sympathizers on July 1, 2016, in Bangladesh. Although the government claimed the attackers were mostly homegrown terrorists and did not have any connections with ISIS and Al-Qaeda, external sources indicated the role of ISIS behind the attacks. Before the attacks, Bangladeshi security agencies and media reports had indicated ISIS and Al-Qaeda were sympathetic towards the Rohingya Muslims in Bangladesh. Media reports also said that due to a desperate need for an identity, a job, and better living conditions, some Rohingya Muslims in India were allegedly involved in sending Rohingyas of Bangladesh to Saudi Arabia to join the ISIS by using fake Indian passports.[i]
External linkages
Over a period of time, especially under the Awami League government, Bangladeshi agencies have indicated external linkages of Rohingya refugees, especially with terror groups like the Lashkar-e-Taiba (LeT) which instigated Rohingyas to avenge the 2012 communal episode in Myanmar. Media reports in Bangladesh citing Intelligence agencies even mentioned that certain Pakistan based terror groups and Saudi Arabian financiers have planned to radicalize Rohingya refugees. Before the violence, Al Qaeda explosive expert Nur Bashar and the banned Islamic Movement of Uzbekistan's Shura member, Mufti Abu Zarraul Burmi had reportedly visited 'Arakan' or the present-day Rakhine State of Myanmar. The LeT also supported the Rohingya Solidarity Organization (RSO) in Bangladesh in the past.[ii]
There are also reports on a Saudi based organization called Rabita Al-Alam Al-Islami which has been allegedly encouraging the radicalization of Rohingyas in two Bangladeshi camps.  This was confirmed in 2013 when a Delhi-based Rohingya refugee started raising the humanitarian crisis faced by the Rohingyas at international forums and made contact with the Saudi Arabia-based Gulf Rohingya Council.[iii] Jamaat-ul-Arakan (JuA) and the RSO have been running terror training camps in remote areas of Bandarban district of Bangladesh. Furthermore, it is believed that two RSO cadres from Bangladesh had joined Afghan Jehad.[iv]
Apart from that there are also unconfirmed reports on the Bangladesh Rohingya refugees' linkages with Harkat-ul Jihad-e-Islami (HUJI) in Bangladesh and Jaish-e-Mohammed (JeM) of Jammu and Kashmir.[v] Pakistan-based terror outfits like LeT, JuD and Falah-i-Insaniyat Foundation (FIF) have all been known for their concerns and sympathizes with Rohingya Muslims.[vi] For example, on June 1, 2015, LeT chief Hafiz Saeed issued a statement in Lahore accusing India of assisting the Myanmar Buddhists for targeting Rohingyas.[vii]
Apart from these links, international terrorist organizations like Al-Qaeda, Jamaah Ansharut Tauhid and Al Shabaab had expressed solidarity towards the plight of the Rohingyas.[viii]
Never ending plight of the Rohingyas
Given the protracted nature and intensity of the conflict, it is not surprising that a form of sympathy and linkage has been established with certain sections of the Rohingyas living in either Myanmar or Bangladesh and the external radical Islamist groups.  It would be unfair to conclude that all Rohingyas have turned terrorists as projected by Myanmar. Even children and women have been branded to be terrorists. Most importantly, the ARSA activities are not supported by all Rohingyas and do not represent every single one of them. (BBC, October 11, 2017).  
Several research studies found that radicalization amongst the refugees could be possible if there are pre-existing militants in the refugees camps. This is followed by other factors like policies and actions of the receiving country, militants organizations used by host against origin country, loose security and strict vigilance, absence of social infrastructure, local economic conditions and poor resilience, and poor living conditions limit opportunities.[ix]
While pre-existing militants in the three refugees camps in Bangladesh have not been found, other factors like strict vigilance and absence of social infrastructure have contributed to depression and anxiety amongst the camp inhabitants. Given the series of recent criminal activities like unauthorized use of mobile phones, drug trafficking charges against some refugees, attempts to construct bombs, contract killings, extortion, etc. in the camps, the Bangladeshi government has taken a slew of measures which could aggravate the plight of the refugees. To curb their activities, the government has recently started fencing around the three camps and there are also reports that the government has prohibited aid organisations from providing accredited or formal education in the refugee camps.[x]
The repatriation of the Rohingyas is shrouded in uncertainty since talks between Myanmar and Bangladesh failed due to problems with the verification of repatriated refugees. In addition, the Myanmar government failed to create a favorable situation for repatriation as per the November 2017 agreement between the two countries. Moreover, the refugees demanded a guarantee of citizenship in Myanmar before the repatriation process began.  This was not acceptable to Myanmar. 
Unfortunately, the international community and the UN agencies have failed to come to a unanimous viewpoint on the status or the identity of the Rohingyas. There is still much confusion on whether they belong to Rakhine, Myanmar or Bangladesh, or are seen as terrorists or as refugees. Even interventions by India and China did not yield results.
While the conventional diplomatic channels have been unsuccessful to resolve the conflict so far, the stalled process has been revived during a four-day official visit of the Bangladesh military delegation led by General Aziz Ahmed, to Myanmar on 8th December 2019. Since the Myanmar army plays a very important role in this issue, the latest visit and subsequent bonhomie could offer another channel of negotiation to resolve the refugees' issues in the foreseeable future.
[Views expressed in this article are those of the author's and do not necessarily reflect the official policy or position of any agency or Institutions.]
This article is part of the "South Asia Conflict Monitor", December 2019.
NOTES
---
[i] "Delhi cops bust forged passport scam; terror link probed", dnaindia, January 16, 2016.
[ii]Shishir Gupta "Lashkar radicalizes Rohingyas to wage war against India", Hindustan Times, August 2, 2013. Also see Pragati Chakma, "Rohingya refugees: A threat to Bangladesh? Dhaka Tibune, January 28, 2016.
[iii] "Rise in number of Rohingya Muslims settling in India set alarm bells among security agencies", The Economics Times, July 21, 2015.
[iv]Animesh Roul, "Militant Islam Meets Militant Buddhism in Myanmar", The Jamestown Foundation, vol. 11 (19), October 17, 2013.
[v] E. Brennan and C. O'Hara, "The Rohingya and Islamic Extremism: A Convenient Myth", The Diplomat, June 29, 2015.
[vi] "Pakistan's Rohingya tears stoke India's fears" The Times of India, July 28, 2015.
[vii] Shishir Gupta "Lashkar radicalizes Rohingyas to wage war against India", Hindustan Times, August 2, 2013.
[viii] For more information see E. Brennan and C. O'Hara, "The Rohingya and Islamic Extremism: A Convenient Myth", The Diplomat, June 29, 2015.
[ix] Barbara Side, et.al, "Lessening the risk of refugees radicalization: Lessons for the Middle East from Past Crises", Perspective, RAND Corporation, 2015.
[x] Bangladesh: Rohingya Children Denied Education", Human Right Watch, December 2, 2019, https://www.hrw.org/news/2019/12/03/bangladesh-rohingya-children-denied….