Commentaries
TEJAS: Let India's Own Light Combat Aircraft Reach New Heights
December 20, 2013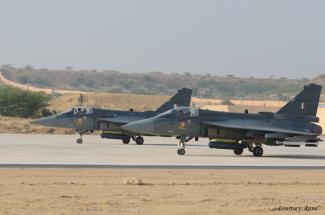 December 20, 2013, will be marked as a proud day for India and its military scientific and industrial sectors as the indigenously designed and developed Tejas (India's light multi-role fighter aircraft, known as LCA) gets its second and most important initial operational clearance (IOC). While the final operational clearance (FOC) will take about 18 months, after which Tejas will be formally a part of combat forces of the Indian Air Force (consequently by the Indian Navy as well), the process of induction of Tejas into IAF is now a reality after IOC.
Tejas's journey informally began in the late 1960s, half a decade after India failed in designing its own supersonic fighter HF-24 (Marut) for a variety of reasons, most importantly the denial of aero-engine technologies by the West to Indian scientific and industrial establishments. It took more than a decade thereafter for India to initiate a major aerospace programme as part of a pentagonal strategic military-industrial project (integrated guided missile development, supersonic fighter, tank, submarine and warship), which came up between 1978 and 1984. Learning important lessons from the earlier aborted programme, the LCA began its formal journey in 1983. After spending a cumulative design and development cost of $2.7 billion, the Tejas is now ready for induction.
The eventual success of the Tejas journey has been co-terminus with many problems (most importantly, failure of the indigenous GTX-35VS Kaveri after afterburning turbofan engine for the fighter), frequent design changes (a corollary of fast-paced aerospace technology environment and demands from the IAF for integration of newer systems), technology adaptability and sourcing challenges (especially sourcing component and sub-systems from abroad because of sanctions regimes), resources allocations and interest group politics, all of which have contributed to delays and thus perpetuated growing gaps between technological advancement and matching scientific and industrial capabilities in India. Despite all these, several features of the Tejas can now be called truly indigenous (for example, only three out of the 35 major avionics components are sourced from foreign suppliers; and the ability to indigenously develop and manufacture advanced carbon-fibre composite—CFC—structures and skins and a modern glass cockpit), although even partial success in the indigenous aero-engine programme could have impressed the otherwise sceptics in India and abroad. But, that is another story.
Tejas connotes a symbolism of strategic importance for India for a variety of reasons. First, its supposed eventual success after the Mark II improved version could propel Indian scientists to aim for the next level of excellence in hypersonic and advanced stealth technologies along with an array of related aerospace technologies in composites, frame designs, avionics, unmanned combat systems, etc. Second, it will open up a plethora of scientific and industrial opportunities within India, especially for the Indian private companies, many of which have shown remarkable interest in aerospace production efforts. As there is a concerted effort to raise the level of industrial competence of the Indian defence industries, the success of programmes like Tejas or indigenous warship production would be a catalyst for scientific and industrial innovations. It could bring in much-needed spin-off and spin-on benefits between military and civilian aerospace sectors. Third, its development cost could be significantly mitigated by the enhanced economy of scale and make it a very competitive product for both Indian and possibly foreign markets (in fact, LCA, at a reported unit cost of $32 million, is the cheapest of the available fighters in the world). Tejas's productionisation burden could even be shared with Indian private companies (like Reliance, Mahindra or Dynamic Technologies). Fourth, it could be a true replacement for the ageing MiGs and, with the improved version, be the backbone of the IAF inventory for the next few decades. Although FGFA (fifth-generation fighter aircraft), Sukhoi or MMRCA would be the frontline assets, Tejas's role would in no way be secondary. Last but not the least, Tejas as an idea has been able to bring in an element of multi-disciplinary and multi-agency efforts that are indeed crucial for key objectives of self-reliance in defence. Its evolution and development have been able to mitigate many issues like scepticism within sections of the IAF about its performance and viability, differences of opinion among scientific establishments (DRDO) and production agencies (HAL), challenges of sanctions, off and on political and bureaucratic apathy. It must be noted that a multi-disciplinary strategic programme like Tejas, whose components and assembly involved multiple scientific, industrial and academic institutions and administered by a complex bureaucratic structure, had to face not only technology but also systemic challenges in its course of development. In a way, its success denotes the supremacy of collective will over individual/group will.
Tejas will face challenges, more prominently in areas like aero-engine, stealth, advanced avionics, etc. Its improvised and next-generation versions in future could be subject to intense public scrutiny. However, its success cannot be ignored. As Steve Jobs, the iconic founder of Apple said: "Journey is the reward," one hopes the Tejas journey scales new heights in the Indian aerospace technology domain.