Opinion / Analysis
India-Nepal: Is India heading for course correction?
February 03, 2018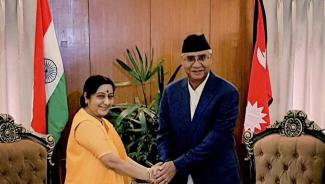 In a surprise move, External Affairs Minister Sushma Swaraj undertook a two-day official visit to Kathmandu, Nepal from February 1, 2018. The visit took place at a time when Nepal is preparing to hold the National Assembly (NA) elections (slated on February 7) under the Sher Bahadur Deuba-led caretaker government. A new government is set to be formed by the left alliance under K P Sharma Oli's leadership. This is the first time in Nepal-India diplomatic relations that an Indian Foreign Minister has visited Nepal before formation of a new government and without that country's executive head's visit to India. The reverse visit indicates course correction in India's approach towards Nepal.
The visit came as a surprise to Nepali politicians because it was decided within a short notice. At the same time, the visit generated mixed reactions from different quarters in Nepal. The Nepali Congress (NC) felt isolated by this visit because it was anticipating India's support towards formation of a NC-Maoist government in the post elections period. The Maoists too were again unhappy because they felt that reconciliatory approach of India to engage with Oli lead government has emboldened Oli to take a rigid stand over power sharing arrangement with the Maoists during the negations over government formation. The UML has been successful in its 'China card' tactics by forcing India to take reconciliatory initiative with it.
The visit itinerary, as reported in Nepali media, left many Kathmandu elites surprised and they felt the visit could add new round of controversy in India's approach towards Nepal rather than resolving the ongoing trust deficit.  The itinerary indicated that EAM first met Oli followed by meetings with Madhesi parties and other leaders and top officials. The Maoists interpreted that there could be an attempt from India to ask the Madhes-based parties to join the Oli government. 
Who blinked first? 
As the election results started pouring in, Indian policy makers in Delhi were in dilemma how to deal with a new left force in Kathmandu. The bilateral relationship took a nose dive since September 2015 due to India's non-recognition of the new constitution. The anti-constitution agitation by the Madhesis at the borders and Prachanda's withdrawal of support from Oli government in July 2016 was widely suspected in Nepal as an Indian design. Even Prachanda and Deuba's visits to New Delhi in 2016 and 2017 respectively could hardly help in improving the relationship. The UML-led left alliance, which had indicated that if it is voted to power would seek help of China for Nepal's development, emerged victorious in the parliamentary and provincial elections. Interestingly, no party got clear majority to form the government.
Taking advantage of the situation, some NC leaders made statements that Prachanda could be given five year support to become PM with the help of NC. This made the UML and especially Oli nervous who felt that this could be an Indian attempt to prevent him from becoming PM. The UML suspicion doubled when Deuba decided to hand over power to the new government only after the completion of other constitutional formalities related to federalism and elections to the NA. Moreover, the Maoists' rigid position demanding for equal power sharing with UML both in the new government and the unified party has led to formation of a new government. Confused over unfolding political scenario in post-election period in Kathmandu, Oli sent one of his close aide to meet Indian ambassador to Nepal to understand India's views on the left alliance.  Oli had also sent messages through that close aide that Oli led government might not be anti-India as projected by some leaders in Kathmandu and bureaucrats in New Delhi.

Oli's China card
At the same time, Oli played his 'Chinese Card' by undertaking a sudden four hours visit to Langtang and Rasuwagadi, a key trading point between Nepal and China, along with some top UML leaders. During the visit, Oli reportedly met some Chinese officials at Langtang. He also made a statement in Rasuwa that UML led new government will upgrade Rasuwagadhi-Kerung road section  and Betrawati-Kerung road section by April 2018, develop Galchhi-Rasuwagadhi Highway into a two-lane highway and work to link a railway line up to Kathmandu via Rasuwagadi.
India was thus left with limited options to improve its relations with Nepal due to the left alliance victory and poor performance of the NC in the elections on the other hand. Chinese influence was imminent. New Delhi might have realized that ignoring the largest party and alliance of Nepal could give free hand to China in Nepal. China has already taken advantage of India-Nepal tensions since September 2015.  New Delhi perhaps also felt that people's mandate needs to be respected by extending support towards formation of a left alliance government in Kathmandu for long term peace, political stability, institutional growth and democracy. Therefore, immediately after declaration of the provincial and parliamentary election results on December 21, PM Modi telephoned top three political leaders of Nepal and congratulated them on holding the elections peacefully and expressed India's cooperation with the new arrangements in Kathmandu. PM Modi again called Oli on Jan 21 and inquired about his health and also invited him to visit Delhi in case his party leads the new government.

Oli's India card
From Oli's point of view, it was necessary to play 'India card' against the Maoists to uphold both party chairmanship and PM position. Despite having an understanding over formation of the new government in Kathmandu and at the provincial level, both Oli and Prachanda are stuck with the party unification issues.
Therefore, the necessity of time has brought both Oli and PM Modi together to develop a new partnership for mutual benefit. India's unilateral approach to engage with Nepal could help mitigate negative images of India in Nepal. While the visit has been some extent successful in bringing thaw in India-Nepal tensions, India needs to cautious about hurting the sentiments of a small state in future by not interfering in internal matters of Nepal. It is time for India to focus more on economic cooperation by forging equal partnership with Nepal for mutual benefits.