Commentaries
LUMBINI: So near and yet so far for India
August 29, 2018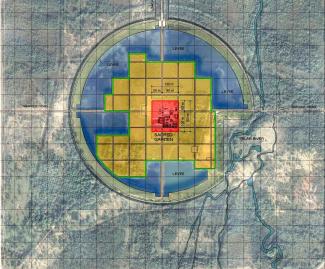 India's Prime Minister Narendra Modi will be visiting Nepal once again during August 30-31, 2018. This is his fourth visit to Nepal ever since he assumed office in May 2014. During this late August visit, PM Modi will be primarily attending the BIMSTEC summit and holding a bilateral meeting with Nepal's premier Khadga Prasad Oli on the sidelines. It is believed that he may sign a couple of bilateral agreements with his counterpart during this meeting.
Interestingly, Lumbini, the birthplace of the Lord Buddha, located in the Rupandehi district of Nepal, has not yet figured in the itinerary of Modi, even if he has been planning for it since 2014, according to some reports. Since Modi had expressed his interest about Lumbini during his June 2018 visit to Nepal, it is being observed in the media circles that the Nepali government was willing to organize such a trip. But it seems, due to the short visit to Nepal this time, there was no request from the Indian side to this effect.
Why does Lumbini elude India?
Immediately after assuming office, Modi undertook his first foreign visit to Nepal. A number of factors influenced this decision: (1) no Indian Prime Minister had visited Nepal for the last 17 years, (2) his "Neighborhood First" policy, (3) Nepal as one of the friendliest neighbours and (4) the only Hindu state in the world with important pilgrimage destinations like Pashupatinath, Lumbini, Janakpur and Muktinath. The first visit was rescheduled to August 2014 as the then Nepali Prime Minister Sushil Koirala was out of the country on a medical emergency to the USA.  Politically and culturally, this visit was a huge success.  Prime Minister Narendra Modi offered a special prayer at the Pashupatinath temple.  
Modi again visited Nepal in November 2014 to attend the 18th SAARC summit. Other than multilateral and bilateral engagements, India requested Nepal to arrange PM Modi's visit to Lumbini, Janakpur and Muktinath on the sidelines of the summit. The visit was cancelled amidst controversy and debate amongst the top political parties and leaders of Nepal about the venue of his civic reception.
First, while some Nepali leaders including Bimalendra Nidhi and Madhes-based parties wanted Modi to visit Janakpur first, the same proposal was opposed by the CPN-UML.  Both the Madhesis and the Maoists protested this visit because they were not part of the local preparation committee in Janakpur. There was also a tussle between the NC and RJP-Nepal leaders over bicycle distribution by the Indian Prime Minister in Janakpur.
Second, from the security point of view, Nepal government was not sure about providing security to the visiting Prime Minister during his proposed address in the Terai region because of the apprehension that it might give a fresh fillip to Madhesh aspirations. In a different context, there were also differences between India and Nepal about Modi's distribution of bicycles to school girls in Janakpur under 'small development projects' of the Indian Embassy.
Third, some also believe that then home minister Bamdev Gautam and foreign minister Mahendra Bahadur Pandey, who have been pro-China in their approach within the CPN-UML, were not in favour of any special programme for Indian Premier in Lumbini while other SAARC leaders were present in Nepal. In fact, Pandey had categorically conveyed to India because of the presence of other SAARC leaders no special treatment could be provided to Modi for his personal visits within Nepal. Interestingly, while Nepal did not allow Modi to visit Lumbini because of security and protocol reasons, on the sidelines of the same event, Nepal allowed Sri Lankan President to visit Lumbini!  
Four, factionalism within the Nepali Congress also contributed to the cold response from Sushil Koirala on this proposal. Koirala somehow felt that India was indirectly promoting Sherbahadur Deuba as the next Party president.
Five, given the growing popularity of Modi in Nepal just before the visit, some western missions in Kathmandu were worried about its impact on the debate over secularism in Nepal. They were afraid that if Modi visited those three religious places, it would revive demands for Hindu Rastra within Nepal.
BIMSTEC and Lumbini
While security and protocol were the main reasons behind the cancellation of Modi's Lumbini visit in November 2014, surprisingly, it did not figure in the itinerary during Modi's third visit to Nepal in May 2018 when he visited Janakpur and Muktinath, which were also planned in 2014. According to The Hindustan Times, Modi, during a civic felicitation programme in Rashtriya Sabha Griha in Kathmandu, on May 12, 2018, had said that "the next time he visits Nepal he [would] make sure to make it to Lord Buddha's birthplace, Lumbini. However, the destination still eludes PM Modi even during his upcoming visit.
As per media reports, nevertheless, two heads of the State— Myanmar and Sri Lanka— will be visiting Lumbini during the BIMSTEC summit. Most importantly, Nepal, as the current BIMSTEC chair, has decided to push forward the agenda of 'Buddhist Circuit' among the members.
Neglected Lumbini
It is a fact that Lumbini has not figured prominently in India's cultural cooperation with Nepal despite the fact it is located just 15km away from the Nepal-India border and Nepal has shown its interest in linking its proposed Buddhist circuit, including Lumbini, with India's existing Buddhist circuit— Saranath, Bodhgaya and Kushinagar. In this regard, both the countries have agreed to set up the Indo Nepal Tourism Forum (INTF) with representations from government and private sector from both sides.
Most importantly, unlike other countries, India does not have any temple inside the Lumbini Development complex. It has a library in the complex and the proposed MoU between Nepal and India regarding the lighting of the gate in Lumbini has been pending for more than a decade. It was supposed to be signed during Modi's November 2014 visit to Lumbini. India's poor presence in Lumbini was also exposed when the secretary of Lumbini Development Trust, Ajit man Tamang, opposed plantation of a Boddhi tree, which was brought from Bodhgaya, near Mayadevi temple by Indian Ambassador to Nepal in January 2015.  
In comparison, China, Japan, Singapore and Germany have been pro-active in the Lumbini development project. Other than Lumbini complex, China is engaged in various socio-economic projects in the adjacent villages. For example, as part of 'agriculture tour' (also known as eco-garden) programme, a Nepali delegation will be visiting China led by Tourism Minister Ravindra Adhikari from 6-9 September 2018. The Mayors of Lumbini, Ramgram and Tansen (Palpa), and members of the Lumbini development project are part of that tour. Earlier, China had organized free medical checkup camps in Ramgram and nearby villages. Every year, on the occasion of Buddha Purnima, China organizes special conference/talks on Buddhism in Zhong Hua Chinese Buddhist Monastery in Lumbini.  In 2011, China had committed $3 billion for developing Lumbini as a world-class pilgrimage.
Conclusion
The Himalayan region in Nepal is undergoing tremendous cultural transformations during the post-conflict political transitions. Buddhism in that region is already divided into many sects to de-legitimize Dalai Lama by the external forces. A large number of Buddhist followers have also reportedly adopted Christianity. China has been trying to promote Chinese version of Buddhism in Nepal with an eye on the post-Dalai Lama phase of Tibetan politics. Around 30 Chinese NGOs are reportedly determined to counter western INGOs operations in Nepal by making their presence in the socio-cultural sphere in a pro-active manner. It seems China is trying its best to take full advantage of the vacuum created by India's hands-off policy in the cultural sectors of Nepal, including in Lumbini. Given the location of Lumbini and geo-cultural linkages with Nepal, the current policy of India could create serious cultural and strategic challenges in the future.