Commentaries
Rafale 2.0: State, Contractors & Tax Payers
August 13, 2018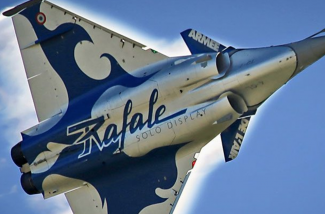 Frontline fourth-generation modern fighter Rafale, manufactured by the French major Dassault Aviation, was chosen as the winner in the global tender for 126 MMRCA for the Indian Air Force before the Modi government took over in 2014. The deal was shelved and subsequently replaced by the announcement of a new contract for the direct purchase of 36 Rafale at a cost of about INR 60,000 crore, the process for which has already been underway since 2015 and the contract signed in September 2016. As time flies, the opposition parties, led by the Congress, have voiced serious concerns about the Rafale deal at a time when India is slated to go for national elections in less than a year from now. It appears that Rafale is going to dominate electoral discourse in time to come. One is reminded of a national uproar during late 1980s over the purchase of Bofors, which eventually cost the then government dearly, although a similar consequence appears highly unlikely this time.
Rafale deal typifies a classic case of 'arms dynamic' – a term, propounded and explained by Barry Buzan and Eric Herring in the classic book Arms Dynamic in World Politics (Lynne Rienner, 1998) – which explains that arms transactions can be a complex affair involving elements of state, bureaucracy and armed forces from the recipient side and manufacturers and the state from the supplier side. Such is the ubiquity in the process as well as larger understanding between the supplier and recipient that it most often leads to inconclusive consequences if questions are raised about its intent or process. All the more reason such cases become more complicated when the suppliers and recipients are relatively self-sufficient and deficient respectively in their industrial capacities. The absence of clearly defined processes, although claimed otherwise, as well as hazy national security considerations leave little scope for probity and accountability, although large public resources are appropriated by the state.
36 Rafale contract typifies a case of state relations in global politics. Consider this: India needs about 350 plus fighters of different types for its fast depleting belly portion of its fighter fleet, leaving aside frontline as well as tail, if its sanctioned strengths of 42 squadrons are to be maintained. This itself is a huge market for foreign aerospace predators. If previous tender experiences are of any indication, Americans, Russians, French, Europeans (consortium-led), Swedish are all geared up for a slice in the USD 300 billion Indian military aerospace market alone. It is not for nothing that Presidents and heads of governments of these countries visited simultaneously on some pretext or the other within a span of six months during 2010 when the technical trials of 126 MMRCA were underway. In the new Rafale deal, the same situation did not happen as it was a one-off decision by the Modi government.
36 Rafale deal can be argued either way – on the one hand, it arouses suspicion because of lack of sufficient data available in public domain; on the other hand, it does not appear to have flouted basic procurement rules. Consider this: the way the deal was announced during Prime Minister Modi's visit to France raised eyebrows. Such suspicion did not get reflected adequately in the mainstream media at that time (it is only in the last few months that the opposition parties have raised the issue). On the other hand, however, it can be argued that the deal did not flout any rule of the Defence Procurement Procedure (DPP) as there are provisions under the same DPP, which empower a particular government to negotiate and sign one-off deals based on strategic considerations through inter-government agreements. Sections 104 and 105 (Inter-Government Agreement) and 106 (Procurement on Strategic Considerations) of DPP-2016 (pp 29-30) not only provide sufficient power to the state to negotiate and sign arms contracts of high value systems based on strategic considerations, but also such contracts may not necessarily follow standard rules and procedures as mandated under the DPP. Accusations on flouting of rules can thus be countered by the state.
36 Rafale has three core aspects: price, technical details and process. In all three, the state can justify its stand (price does not matter under sections 104 and 105 of DPP; technical details for obvious reasons can not be disclosed; while the process can take the usual route). However, broader aspects of such deals are subject to interpretations, which can unsettle the state if it fails to adequately address such issues. Three questions arise: a) is Rafale a worthy product to be considered under 'strategic considerations'; b) is it going to enhance strategic strike capabilities of the IAF; and c) is the Indian industry (for example, Reliance Defence) going to benefit from offsets – if so, how?
If the government fails to adequately answer the above issues, the deal could end up in favour of the supplier and the recipient state at the cost of domestic contractors and Indian taxpayers.
[This article was originally published in Financial Express, August 08, 2018)