Commentaries
Violent Forests: Indian Woodland under Naxal Threat
March 28, 2006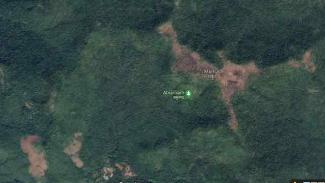 The forests of India are now under a novel threat posed by extremist outfits. Starting from the Hizbul Mujahideen to Naxals (the Left-wing extremists), all find the forest their safest hideouts to continue their anti-social and anti-national activities, including planning and deployment. According to the Union Ministry of Environment and Forest (MoEF), half a million crimes are reported from India's forest areas every year, and about 30% of it is related to militancy in these areas. Taking another estimate from a news agency, we come to know that about 19 per cent of the total forests are under the control of the Naxalites. Left-wing extremist groups have made forests their reason for existence.
India has a total forest cover of 768436 Sq Km (Source: State of Forest Report, 2001, FSI, MoEF, GOI). This is about 21 per cent of the total land area in India. Nineteen per cent of the forest cover, about the size of Bangladesh, is under the control of Naxals. The activities of the Naxals have spread from the eastern to central and spread up to the southern part of India. Many protected areas fall in this stretch with rare and endangered flora and fauna species. 
At least 15 states in India are presently under the Naxalite network, and this affects 17 National parks, 35 Wildlife Sanctuaries and 18 Reserve forests, mostly Tiger reserves. Apart from this, some unclassified forestlands in West Bengal, Orissa and Andhra Pradesh are also under their control. Valmiki Reserve Forest in Bihar and Dudhwa National Park in Uttar Pradesh are under the clutch of the Maoist section of Nepal and highly affected by cross-border militancy. 
About 250 people have been killed in conflicts involving the local tribals, forest department officials, Naxals, and the police in the last two years. The Naxalite outfits have deployed land mines and barbwires in and around the forest to control people's entry, not supporting their cause and security forces. These barbwires entrap the wild animals in the protected area. In most cases, the landmines blow out heavy animals, and small animals are trapped and die in the barbwire. Even the Naxals kill endangered birds and animals for food. There are even reports that they also poach tigers and elephants for their hides and tusks as these items fetch good cash in the international markets. The amount gained has been used to reload their ammunition and facilitate their fight against the government forces. Fifteen years of Naxal invasion have made the Nagjira wildlife sanctuary tiger-less. 
Mismanagement of forests is the main reason for the spread of Naxalism from just one village in West Bengal to 7,000 villages in the last 38 years. Since last year, the ultra-leftist CPI-Maoist has been spreading at the rate of two districts each week, and their activities had gone up from just nine states in November 2003 to 15 states in 2005. Major Naxal-infested forests areas are South Bengal, South Orissa, southern Andhra Pradesh, central Chhattisgarh, Central and south MP and eastern Maharashtra. 
Apart from this, previously the public support has given them entry into the forest. Ignored as a law and order problem, Naxalites have made tremendous inroads using environmental issues like forests, displacement, job security, food security and tribal self-rule. Negligent tribals supported them for a farsighted will of having a decent life. Generally, vulnerable livelihood groups like woodcutters, fisherfolk, small farmers, agricultural labourers and gatherer-collectors supported the Naxals. Tribal alienation, displacement by large projects like industry, dams, power projects, highways, and the government's failure to ensure food security are the main reasons for the spread of Naxals in Orissa and adjacent states.
Conflicts in the forest always revolve around the question: who owns the forest? The forest department is the legal owner of forests in India, while the tribal forest dwellers claim traditional ownership. Five hundred million people in India depend on forests for survival, but Indian forest laws restrict people from sourcing their livelihood. Taking this as an advantage, the Naxalites have made their den in these forests. This is harmful to our forests and wildlife and the forest dwellers as they, after prolonged government negligence and perpetual poverty, have been trapped by the easy money adopt Naxalism as the only means of sustenance.
The article is based on open source reports on the subject, including Richard Mahapatra's UNQUIET FORESTS: A comprehensive look at how forest laws are triggering conflicts in India with a focus on Naxalite" (Prem Bhatia Memorial Trust, 2004-05).